PAX 2011: Warp presents a novel twist on the teleport game mechanic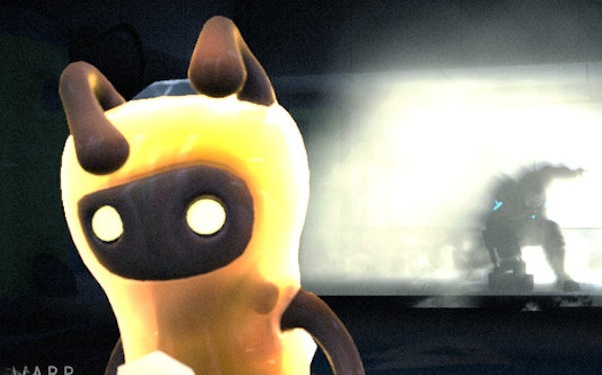 Posted by Evan Narcisse on
"Portal 2" came out this year and Valve's instant classic showed how powerful and imaginative their mind-bending physics-based experiences can be. You'd figure that there wouldn't be any room for another game to impress folks with a teleportation mechanic. But, "Warp"–being developed by Montreal-based Trapdoor–stood out amongst the crop of new games being shown at the annual Penny Arcade Expo in Seattle.
This indie game puts players in the role a cute, captured alien named Zero. Zero's slated to be subjected to the usual slate of tests and dissections by his captors. But, the scientists and soldiers who captured the antenna-sporting extraterrestrial don't know that he can teleport and he promptly proceeds to effect an escape. The giant underwater research facility that Zero's trapped in is a series of connected rooms and corridors, with most occupied by a scientist or soldier that he'll have to get past to progress through the game. If soldiers spot Zero, they'll immediately try to hunt him down. Scientists don't have guns but they'll call for armed back-up to try and nab the teleporting critter.
The gameplay for "Warp" operates on a simple premise: Zero can teleport across a certain range of space, marked with a small reticule. It doesn't matter whether there are walls or objects in the way, either. Actually, it's the combination of objects and teleportation that makes "Warp" extremely unique. Zero can teleport inside objects and then explode them from within. Trapdoor call this ability 'fragging'–done by rapidly waggling the left stick on a controller left-to-right–and it's the only real thing that passes for offense in the game. Teleporting into and fragging a biohazard canister stuns nearby humans so that Zero can get out of their line of sight. How offensive does fragging get? Well, Zero can teleport inside people, too, and fragging an occupied human blows them up in an detonation of blood.
You can also teleport out of a human just at the cusp of a frag explosion and the buildup of energy will leave them stunned long enough for Zero to sneak away. It's this twist of the frag mechanic that will players complete the game in a non-lethal way, if they so choose. Along they way, Zero will find film canisters that contain footage of his existence–scheduled to be deleted–that players must hunt down to unlock special rewards in the game. Zero will have one other ability that helps his efforts at stealth and that's his echo power, which lets him create holographic decoys to mess with the enemy AI's awareness of his location.
Trapdoor says that they'll be revealing more about "Warp" as time goes on. It's going to be a downloadable title and should be out early next year.
How interesting does "Warp" sound to you? Let us know in the comments below or on Facebook or Twitter.