PAX 2011: "Quantum Conundrum" Will Shift Perceptions Next Year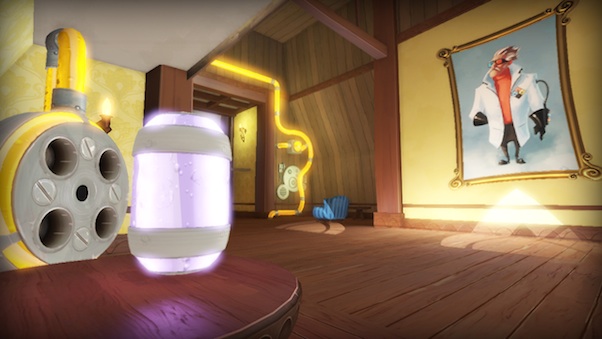 Posted by Evan Narcisse on
In "Portal," players were the ones that moved through rifts in space. In Kim Swift's new game, all of reality is the thing experiencing a dimensional shift. Developed by irtight Games, Quantum Conundrum casts players as the nephew of a famous if peculiar scientist named Prof. Fitz Quadwrangle, who's gone missing after an space-time experiment. Using the professor's Inter-Dimensional Shift Device invention, you'll need to hunt through various rooms in his technologically advanced and (unexpectedly dangerous) mansion to find clues that can help you find him.
The IDSD will switch reality between four dimensions to help players complete objectives. So, shifting into the Slow Motion dimension will put the brakes on the speed of anything moving through a particular space. The non-Einsteinian Fluffy Dimension will layer a furry pelt over everything but also make items super-light. You'll also be able to shift dimensions on the fly so if you throw something heavy while it's fluffy, you can shift things back so it regains its full weight while in flight. One more Dimension–the self-explanatory Reverse Gravity–was shown at PAX, with one more being held in abeyance until a later date.
The initial impression of "Quantum Conundrum" seems to make it out as very like "Portal" with a wider variety of game mechanics. And, given how awesome the first "Portal" game is, there's absolutely nothing wrong with that. "Quantum Conundrum" will be a downloadable title available on PC, Xbox 360 and PS3 early next year.
Are you excited for the possibility of more dimensional shenanigans from Kim Swift? Let us know in the comments below or on Facebook or Twitter.