"Paradise Lost 3″'s new ending to premiere at New York Film Festival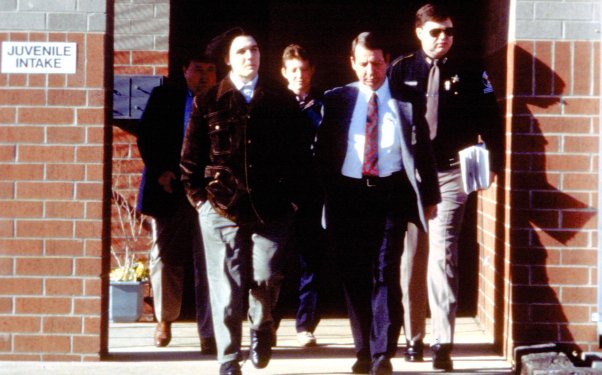 Posted by Matt Singer on
It was a funny week to be vacationing in Memphis.
I was down in Tennessee last weekend basking in some Southern hospitality and gorging myself on a variety of smoked meats when my jaw absolutely hit the floor as I walked past a kiosk for the local newspaper, The Commercial Appeal. "West Memphis Three Walk Free," the headline read. Incredible.
Having watched — and been riveted and horrified by — two stellar documentaries about the West Memphis Three entitled "Paradise Lost" and "Paradise Lost 2: Revelations," I was very familiar with their story, a disgraceful miscarriage of justice brought to life in vivid and tragic detail by directors Joe Berlinger and Bruce Sinofsky. It began when three teenagers — Damien Echols, Jason Baldwin, and Jessie Misskelley Jr. — were accused of the murders of three boys in West Memphis in 1993. The evidence was tenuous at best, but that didn't seem to matter to prosecutors; all three were convicted and Echols was sentenced to death. Berlinger and Sinofsky not only captured the investigation and trial, they even became a part of it, after the father of one of the victims presented a member of their crew with a knife containing blood residue on it. Both films are essential viewing for fans of documentary film.
Berlinger and Sinofsky were putting the finishing touches on a third installment in the epic documentary saga, "Paradise Lost 3: Purgatory" — even had their premiere scheduled for the Toronto Film Festival next month — when the news of the West Memphis Three's release broke. After spending 17 years in prison, and in light of new DNA evidence, the men were permitted to enter Alford Pleas, described by the Commercial Appeal as "a legal maneuver that allows a defendant to plead guilty — even if he maintains his innocence — because it is in his best interest to do so. Although an Alford Plea allows a defendant to profess innocence, and each did in brief statements to the court, the plea carries the same legal weight as a regular guilty plea." And with that, they were released.
Sounds like the film might need a new subtitle. And it definitely needs a new ending, but with so little time remaining before Toronto, the film will appear at that festival in its previous cut. A new updated ending will premiere at the New York Film Festival next month.
The New York Film Festival also announced a host of additional special screenings and events today, including repertory screenings of Charlie Chaplin's "The Gold Rush," Luis Bunuel's "The Exterminating Angel," Wes Anderson's "The Royal Tenenbaums," and Hayao Miyazaki's "Castle in the Sky" and "Spirited Away." Oliver Stone will also be on hand to premiere a sneak preview of his upcoming documentary miniseries called "The Untold History of the United States." It should be an exciting festival, and it runs from September 30 to October 16.
Looking forward to the third "Paradise Lost" film? Tell us in the comments below or on Facebook and Twitter.