OK Go covers "The Muppet Show Theme" with expected viral video wackiness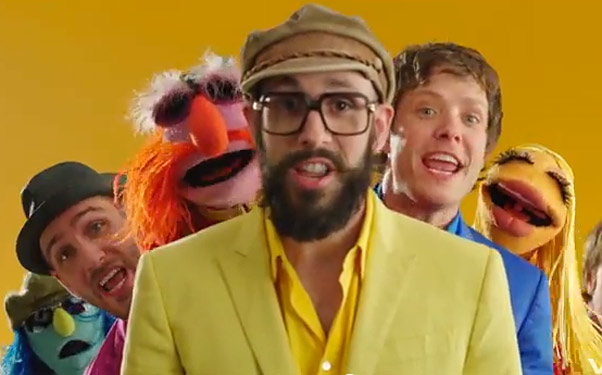 Posted by Aubrey Sitterson on
In what could possibly be the biggest collection of adorable quirkiness since "Scott Pilgrim vs. The World," your favorite Internet meme-ready band, OK Go has covered "The Muppet Show Theme," and now you can watch the song's all-new music video.
Recorded as part of the "Muppets: The Green Album," (not to be confused with the similarly titled and similarly quirky self-titled Weezer disc), the track sees the alt-rock band take on the song used to open every episode of "The Muppet Show," with some help from the Muppets themselves. Other tracks on the album include covers by Weezer, Paramore's Hayley Williams, The Fray, Alkaline Trio, My Morning Jacket and more.
The video is kind of everything you would expect from an OK Go/Muppets team-up, including references to the band's prior viral videos, throwbacks to "The Muppet Show" itself and even some schticky false endings.
If you think you haven't reached your quirk quota for the day, check the video out below, then make sure to tell us what you think about the collaboration in the comments or on Facebook and Twitter.