Will "Star Trek" return to airwaves courtesy of a guy you've never heard of?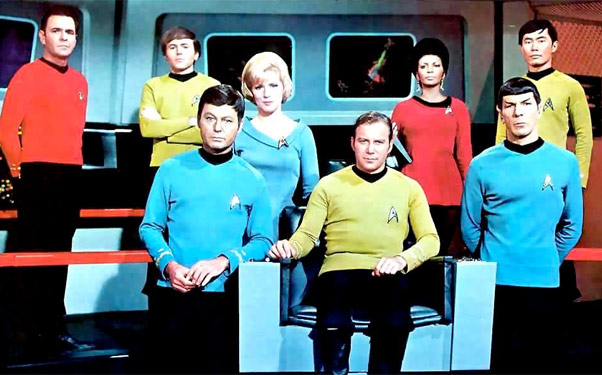 Posted by Aubrey Sitterson on
With the massive critical and commercial success of J.J. Abrams' "Star Trek" reboot in 2009, the once ubiquitous franchise has been on everyone's mind again in recent years. And in the wake of a failed Bryan Singer pitch and a still-maybe-possible animated series, 1947 Entertainment's David Foster is speaking out about his vision for an all-new "Star Trek."
Thanks to Slashfilm for picking up on an interview with Foster originally conducted by Trek Web. In the piece, the owner of 1947 Entertainment talks about a desire to get back to "Star Trek" creator Gene Roddenberry's original vision of a "positive view of the future," while also pointing to Joss Whedon, Ron Moore, Manny Coto and J. Michael Straczynski as his inspirations.
Foster appears extremely confident about his pitch, which would fit in with the established canon of the television series, including both "Voyager" and "Star Trek: Enterprise," as opposed to tying in with the far more successful Abrams film. Currently, the producer, writer and consultant claims that the concept is "fully developed…with a solid 5-7 year series plan, pilot script and a conceptualized finale that intends to define 'Star Trek' for generations, extensive character bios, costume and ship/set designs and more.'"
The name David Foster might not be familiar to you, but he and his 1947 Entertainment have had their fingers in a number of science fiction properties over the years. Most notably, he has worked on "Battlestar Galactica: The Second Coming," remembered primarily for being the "Battlestar" project between "Galactica 1980" and Ron Moore's 2004 reimagining "Battlestar Galactica"
That said, Foster's take on the property does sound pretty interesting, offering new spins on classic Trek groups and races. "The Klingons are getting very restless since the Praxis incident forced them to come to the peace tables, and are tired of having to rely on the Federation for support," Foster explained. "The Ferengi have discovered a vast new resources that has propelled them towards instant riches and power beyond anything they have previously experienced."
What do you think about Foster's vision for a new "Star Trek" series? Would you tune in for weekly Trek adventures, or would you prefer to just wait on the next Abrams movie? Tell us in the comments below or on Facebook and Twitter.