Max Brooks visits the set and shows off pictures from "World War Z"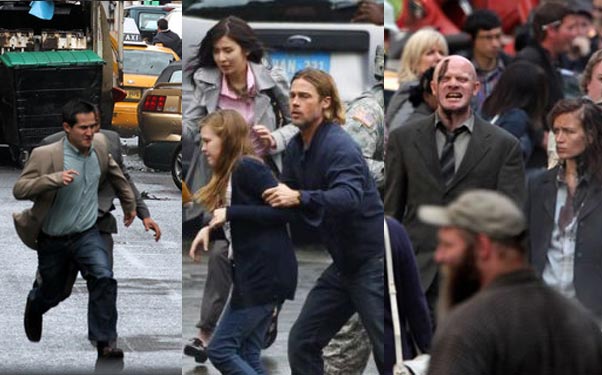 Posted by Aubrey Sitterson on
While its zombie subject matter might mark it as an easy choice for a feature film adaptation, the fractured "oral history" style structure of "World War Z" doesn't exactly lend itself to the medium. Despite the fact that filming is well under way on the zombie flick, it's still shocking that the project, which spent years in development hell, is actually happening, and no one is more surprised than the book's author, Max Brooks.
In a conversation of the Daily Record, Brooks explained the difficulty of turning "World War Z" into a movie. "It doesn't have a main character, the storyline is told from a hundred different points of view, would be prohibitively expensive filming in all these different countries," he admitted. "You couldn't pay me to turn it into a film."
While the book version of "World War Z" featured numerous characters relating their zombie experiences to UN employee Gerry Lane, the movie focuses on Brad Pitt, who must traverse the globe in an effort to stop the zombie plague. Despite all the changes to his story, however, Brooks seems excited about the new, resulting piece of art. "I'm not involved so I just want to be able to enjoy watching the movie when it comes out," he explained. "At least I know they did at least as much research into things as I did for the book."
Now, after a visit to the film's Glasgow set, Brooks is more impressed than ever with the movie, particularly with Pitt. The author claimed, "I've never seen this much enthusiasm for a film," which is pretty amazing, considering that his dad was the man behind "Dracula: Dead and Loving It."
In regards to the film's many undead extras, Brooks explained that the shoot actually has a zombie school to teach them how to stagger, moan and drool. "They look very much like what my impression would be of new zombies who had not really begun to rot, kind of like phase one zombies," he enthused.
Check out the photos below to see exactly what Brooks is talking about, and then make sure to tell us your thoughts about "World War Z" in the comments below or on Facebook and Twitter.