Matt Damon and Anna Paquin film finally coming to theaters after six years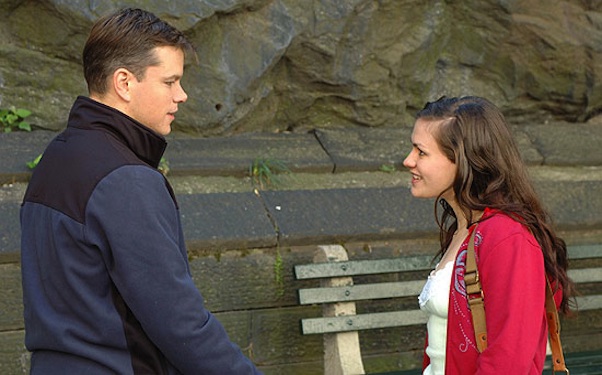 Posted by Matt Singer on
The Playlist spotted an item from Exhibitor Relations that brings some surprising news: Fox Searchlight will finally open Kenneth Lonergan's "Margaret" on September 30. The long lost film has been sitting on a shelf for a very long time. How long? So long that when casting announcements were made, Anna Paquin was still working on "X-Men: The Last Stand" — and it was still called "X3." So long that people were already writing "Where is Kenneth Lonergan's 'Margaret?'" articles three years ago. Shooting originally wrapped in 2005.
Since then, the film has been bogged down in years of edits and re-edits, and numerous contentious lawsuits between Lonergan, the studio, and various other production and insurance entities. The whole sordid affair — or at least the whole sordid affair circa 2009 — can be found in the Los Angeles Times article "Kenneth Lonergan's 'Margaret': post-production in a courtroom," which outlines the main reason that the film is just now coming out six years after principal photography: "Lonergan [couldn't] finish the film."
"A number of producers and editors — including Rudin, Pollack and Martin Scorsese's legendary editor, Thelma Schoonmaker — have tried but failed to help Lonergan complete his movie, court documents and interviews show. With his financing from [financier Gary] Gilbert and Fox Searchlight cut off, Lonergan borrowed more than $1 million from actor and close friend Matthew Broderick (who has a small part in "Margaret") in an attempt to complete the editing of the movie, according to a person close to the production."
But wait! There's more!
"After a year and a half of editing, the situation imploded in the summer of 2007. Gilbert brought back the film's original editors, [Anne] McCabe and Mike Fay, to recut the film while Lonergan was on vacation, but when Lonergan returned he 'forbade' them to work on the film."
And that brings us basically to where we are now with — wait, what? There's more?!?
"Not long after, 'Margaret"s completion bond company, International Film Guarantors, which insures that the film will be finished and delivered in a timely manner, stepped in. Lonergan gave IFG an earlier cut of the film (which Gilbert says was "randomly selected" and "incoherent"), which was then delivered to Fox Searchlight last June. With the film in hand, Fox Searchlight demanded that Gilbert and Camelot pay its contractually obligated share of the film's budget, $6.2 million, which they haven't paid.
Okay, is that it? Probably not, but I'm just going to move on before we're stuck here all day.
That is a lot of legal wrangling for just one movie. But just what is the movie about? The Times piece also includes a detailed synopsis of the plot, which is reprinted, word for word, on "Margaret"'s Wikipedia page (it might be considered slightly SPOILERish, so be aware):
"The story revolves around a 17-year-old New York City high school student named Lisa Cohen (Anna Paquin), who may have contributed to a bus accident in Manhattan's Upper West Side. Lisa's mother, Joan (played by Lonergan's wife, J. Smith-Cameron), is a single mom grappling with parenting and her acting career. A sexually active teen, Lisa inappropriately flirts with one of her teachers (Matt Damon) while arguing with her classmates about the Middle East. Lisa ultimately becomes involved in a legal action against the bus operator (Mark Ruffalo). The film's title comes from the Margaret in the poem 'Spring and Fall: To a Young Child' by 19th century poet Gerard Manley Hopkins, briefly alluded to in one of Lisa's classrooms."
What remains unclear at the moment is exactly which of the myriad cuts of the film Fox Searchlight is going to release and just how sizable that release will be. Lonergan had final cut on the film — that's the reason Fox didn't just take the movie away from him after a couple years, edit it themselves, and release it — so unless that changed as a result of the settlement of all these lawsuits, it should be something the director is reasonably happy with. I'm curious to finally see this thing and to find out whether it's even half as interesting as its own tortured history. Who knows how good the movie of "Margaret" will be, but the production of "Margaret" was juicy enough to make a great film itself.
Curious about a six year old movie? Tell us your thoughts in the comments below or on and Twitter.