"Man of Steel" writer David Goyer to take on "The Invisible Man"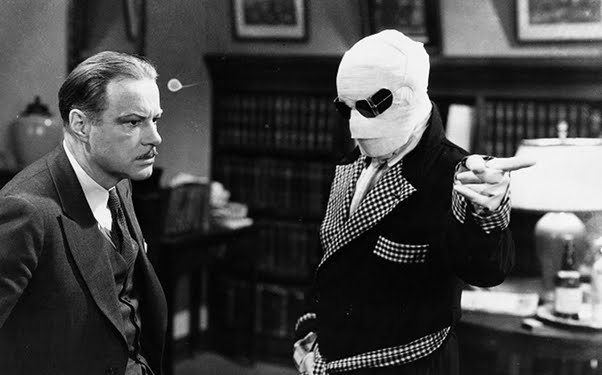 Posted by Rick Marshall on
Just yesterday I recommended a modern-day version of H.G. Wells' The Invisible Man in my weekly "Adapt This" column, and now it looks like the suggestion was right in line with what Hollywood's already been thinking.
The L.A. Times blog Hero Complex is reporting that Universal Pictures is considering a new feature film based on the bandage-wrapped mystery man first introduced in Wells' 1897 masterpiece. According to the report, the film would offer an aesthetic more in line with Guy Ritchie's recent reinvention of the "Sherlock Holmes" franchise and the modern, special-effects driven films based on "The Mummy."
"Man of Steel" writer David Goyer is apparently spearheading the project, and told the blog that the film is indeed "still alive" and working its way through the development channels. In fact, the studio has already seen some examples of how key visual effects would be achieved on the screen.
"We did some pre-vis tests and things like that that they were very happy with," he said. "Now we're going through the casting process. if they get the right lead, they'll make it."
While the modern reinvention of "The Mummy" was a success that spawned multiple sequels and a spin-off film ("The Scorpion King"), recent attempts at putting Universal's library of classic monsters on the big screen haven't all been homeruns.
The 2010 film based on "The Wolfman" was a frustrating flop at the box office, causing some to question whether the remaining characters in the studio's vault are still commercially viable.
If "The Invisible Man" does find its way back to the bog screen, it will be the latest in a long line of films about Wells' iconic scientist who goes mad after turning himself invisible. The character made his box-office debut in 1933 with actor Claude Rains in the title role and director James Whale behind the camera. More recently, Kevin Bacon played the role in "Hollow Man," a fairly successful film released in 2000 that was directed by Paul Verhoeven.
While it's clear that Goyer's take on the tale doesn't fall quite in line with my suggestions for how to adapt The Nobody,it's nice to know that we're on the same page as far as the appeal of the tragic, see-through scientist at the center of Wells' wonderful story.
What do you think about "The Invisible Man" news? Chime in below or on Facebook or Twitter.