"Man of Steel" set photos reveal tornado aftermath and a familiar bank vault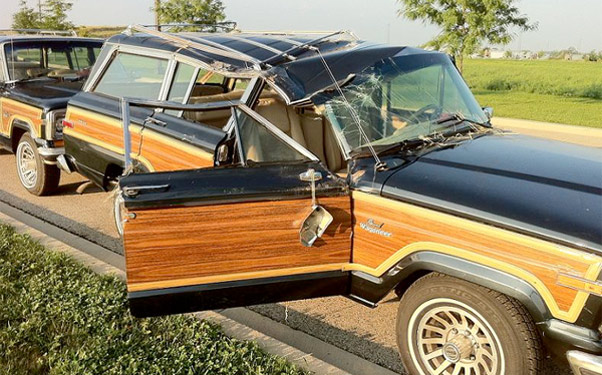 Posted by Brian Jacks on
Zack Snyder's take on Krypton's last son may have been pushed to nearly two years away, but that doesn't seem to have interrupted the production schedule of "Man of Steel" in the slightest. The director has been busy shooting away in Illinois for the past couple of weeks, and now we have our first glimpse at some of the set pieces courtesy of BeforetheTrailer.
The images appear to show the aftermath of a tornado, in an area that could easily pass for the cornfields of Smallville, Kansas. A director's chair labeled "Kevin Costner" may also lead credence to the set possibly being a lead-up to the discovery of baby Superman. Or perhaps the whole thing is the result of either Superman or one of his enemies using their powers. There isn't much to go on so anything is conjecture at this point.
Another photo reveals something more familiar to us, that of the crumpled bank vault that was seen in the background of the first official image of Henry Cavill as Superman.
The photos come on the heels of the casting announcement of Lawrence Fishburne as Clark Kent hard-nosed boss, Perry White. The acting vet joins a storied cast that include Diane Lane and Kevin Costner as Superman's adoptive parents, Russell Crowe as Superman's real father Jor-El, Amy Adams as Clark Kent's Daily Planet flame Lois Lane, and Michael Shannon as the evil General Zod.
Head on over to BeforetheTrailer to see all the images. Man of Steel is scheduled for release June 14, 2013.
What do you guys make of the new set photos? Are you curious to see Zack Snyder's vision? Let us know below or on Twitter or Facebook.