Henry Cavill's "Man of Steel" costume gets a close-up in new photos from the Superman set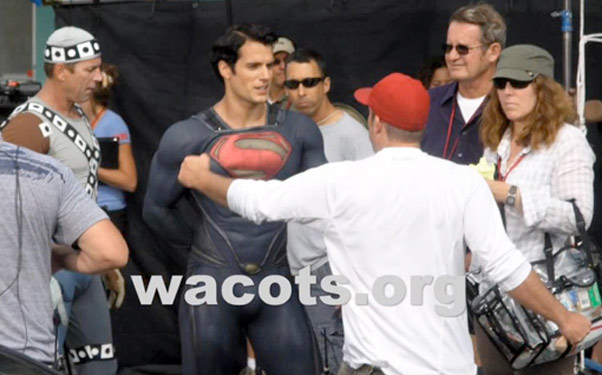 Posted by Aubrey Sitterson on
This week has seen an absolutely shocking dearth of "Avengers" photos and videos. No shaky YouTube links of people running, no blurry shots of men standing around in their costumes – NOTHING. Thankfully, we can get our superhero speculation fix from eight new photos of Henry Cavill on the set of the new Superman movie "Man of Steel."
As we noted last week Cavill's version of the costume has done away with the signature red, over-the-pants briefs, sticking with the dimpled, ribbed rubbery suit that seems to be so in fashion with superhero types these days. The photos, scrounged up by SuperheroHype also show off some of the suit's other details, including some pretty cool looking accents up and down the suit's back and legs.
Most interestingly, however, is what's not there in a number of photos: Superman's cape. While the cape isn't always there, it looks to be easily removed via a series of Velcro strips around the neck. As the cape is such an integral part of Superman's look, we're guessing that it's simply removed between shots to give Cavill a break from lugging it around.
What do you think about the new Superman costume? Do you approve of the updates or would you prefer something more traditional? Tell us in the comments below or on Facebook and Twitter.