New Yorkers: go see "Love Exposure!"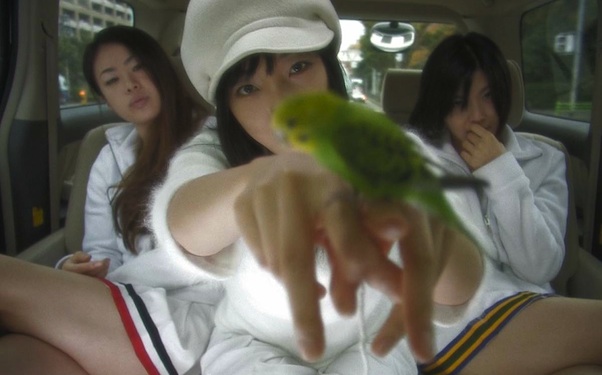 Posted by Matt Singer on
In general, I would describe myself as a bitter, jaded, misanthropic cynic who has forgotten how to feel joy while watching a movie ("Dead inside," my wife added, when I read her that description. "You forgot dead inside."). I have seen so many movies in the last ten years, that sometimes I feel like I've seen every movie. That's why I want to give a quick heads up about one movie that brought me a great deal of joy when I saw at Fantastic Fest back in 2009, one that is as refreshingly unusual as movies get. It's "Love Exposure" from Japanese director Sion Sono. It opens this Friday in New York City at Cinema Village.
The lengthy delay between festival premiere and theatrical release is easy to explain: this movie is totally bugshit insane. And it's about a hero, forced to commit crimes so he can confess his sins to his ultra-religious father, who starts to take upskirt photos of girls. And he uses martial arts while he does it. And he cross-dresses. Oh, and it's 237 minutes long. In other words: not exactly a formula for box office gold. But it is a recipe for wonderfully eclectic cinema. Here is the trailer:
And here's how I described the film in a review I wrote of the film at Fantastic Fest 2009:
"Extremely silly at times, genuinely thought-provoking at others, and frequently both all at once, the film boasts the rare quality of looking nothing like anything you've seen before. It lifts up your spirit as it lifts up your skirt."
I wouldn't expect it to last long in theaters. Movies this unique rarely do. Make sure you see it while you can.
Interested in "Love Exposure?" If you see it, we want to know what you think. Tell us in the comments below or on Facebook and Twitter.