Laurence Fishburne to play Perry White in Superman flick "Man of Steel"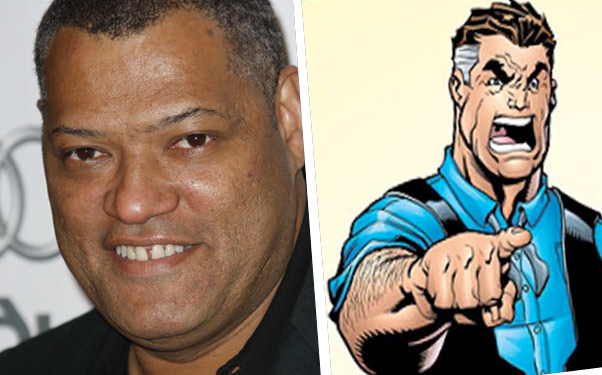 Posted by Aubrey Sitterson on
With news breaking yesterday that Marvel's new Ultimate Spider-Man is a half-black, half-Hispanic kid named Miles Morales, bigots were already having a pretty rough time of it. Things won't be any easier on racist comic book fans today, however, as late last night it was revealed that Laurence Fishburne would be playing Perry White in Zack Snyder's "Man of Steel."
Setting off what we expect to be a deluge of "Perry Not-So-White-Anymore" headlines, Fishburne will play the Editor-in-Chief of the Daily Planet, the newspaper that employs Superman's alter ego, Clark Kent. In his first major role since leaving "CSI: Crime Scene Investigation," the actor will join Henry Cavill as Superman/Clark Kent, Amy Adams as Lois Lane, Kevin Costner, Diane Lane, Russell Crowe, Michael Shannon and fellow television police procedural refugee Christopher Meloni, among others.
As we type, no doubt there is already an enterprising porn producer with an eye for synergy working up a Superman porn parody starring Fishburne's estranged daughter Montana. Fortunately, there should be more than enough time to rush the product to market prior to the June 2013 release of "Man of Steel." God bless America.
What do you think about Laurence Fishburne playing the classic member of Superman's supporting cast? Tell us in the comments below or on Facebook and Twitter!