Lars von Trier readies hardcore sex flick "Nymphomaniac"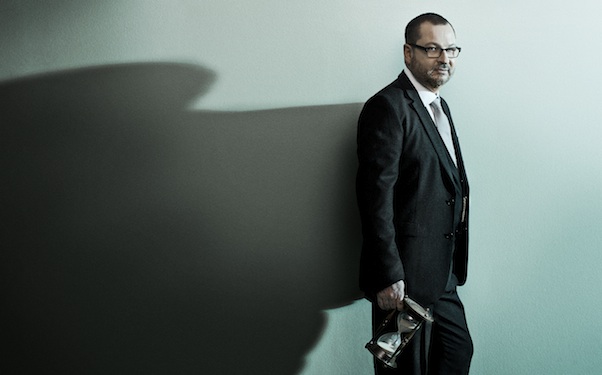 Posted by Matt Singer on
Oh, Lars von Trier. You make such great fodder for headlines. Just look at these things!
–"Lars von Trier on 'Nymphomaniac': 'I can't make a film about the sexual evolution of a woman without showing penetration'"
–"Lars von Trier: 'Nymphomaniac will show penetration'"
–"Lars Von Trier: Entre la censura y el sexo explícito"
Not el sexo explícito! Won't someone please think of the niños?
Yes, Lars von Trier's new film "Melancholia" hasn't even hit American theaters yet (it opens on November 11), but the dependably controversial Danish director is already talking up his next project, a film entitled "Nymphomaniac" that will — nay, must! — feature shots of sexual penetration. Now, if just about any other internationally regarded master director announced his next flick would feature hardcore sex, it would be major news. But for Lars von Trier — who featured super-arty penetration shots (and a whole lot more) in his "Antichrist" — this is just another day at the office.
(Also if you picked August 2, 2011 in the What Day Will Matt Write "Super-Arty Penetration Shots" on IFC.com Poll, congratulations; you are the big winner.)
Speaking with Entertainment Weekly, which describes the project as the story of "the sexual evolution of a woman from birth to age 50," von Trier said that "as a cultural radical" he couldn't possibly "make a film about the sexual evolution of a woman from zero to 50 without showing penetration." For the love of all that is good in this world, Lars, please let the penetration shots happen as far away from the zero end of the spectrum as possible.
von Trier also promises that the film, which he concedes might need to be released in multiple cuts to appease various international censorship bodies, will not simply be a porn film. "It principally is a film with a lot of sex in it and also a lot of philosophy," he told EW. Again, if you've seen "Antichrist," you have to take him at his word. That movie had some hardcore nudity, but only a truly demented individual would call it porn. And you'd have to be demented not to want to see what the wildly innovative and always interesting von Trier does with this material. "Nymphomaniac" is tentatively scheduled to go into production next summer.
Are you ready for more hardcore von Trier? Tell us in the comments below or on Facebook and Twitter