"Batman" alum Katie Holmes offers some advice for Anne Hathaway and "The Dark Knight Rises" cast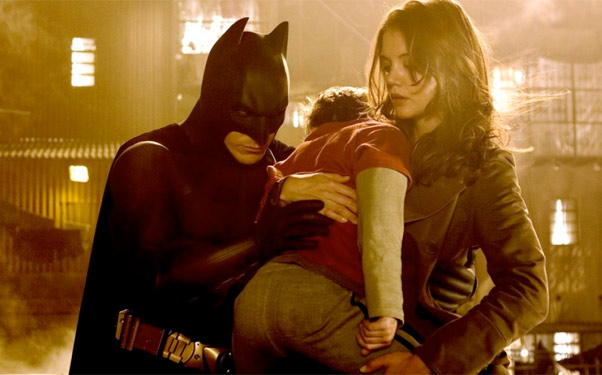 Posted by Rick Marshall on
There's been no shortage of online chatter the last few days regarding new photos from the set of "The Dark Knight Rises," Christopher Nolan's third and final Batman movie. One of the big topics of discussion is the recently revealed first photo of Anne Hathaway as Selina "Catwoman" Kyle commandeering one of The Dark Knight's two-wheeled Bat-pods.
Of course, it's reasonable to assume that the reason everyone's making such a fuss about "The Dark Knight Rises" is due in large part to the success of the record-breaking franchise thus far — which begin with 2005's "Batman Begins."
When IFC sat down with "Batman Begins" actress Katie Holmes to discuss her upcoming film "Don't Be Afraid of the Dark," we made sure to ask her whether she's been following all of the Bat-buzz lately, and what advice she has for Hathaway and the rest of the "Dark Knight Rises" cast.
video player loading
.
.
.
"I hope she has a great time," said Holmes of Hathaway. "I loved working with Chris Nolan and that whole group of people. He's such an amazing filmmaker and I love what he's done with all of the Batman movies. So I hope they have a great time. What a great character."
Holmes went on to confirm that she's as eager as everyone else to see what Nolan has in store for the grand finale of the Batman trilogy she helped kick-start in the 2005 film.
"I think he's obviously so talented and creative and very inventive, so I can't wait to see this movie," she gushed.
"The Dark Knight Rises" is scheduled to hit theaters July 20, 2012.
What advice would you give "The Dark Knight Rises" cast? Chime in below or on Facebook or Twitter.