Schwarzen-Watch: Justin Lin talks "Terminator"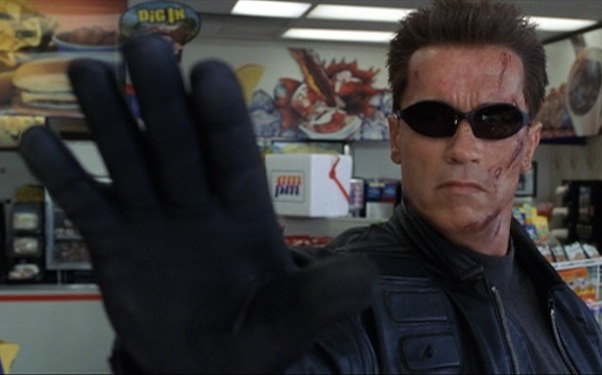 Posted by Matt Singer on
IFC.com film writer Matt Singer is the biggest Arnold Schwarzenegger fan on the planet. He blogs any time any news about Schwarzenegger's return to acting, no matter how flimsy or improbable, hits the Internet.
In a conversation with The Playlist, "Fast Five" director Justin Lin provided an update on a possible fifth film in the "Terminator" franchise starring Arnold Schwarzenegger. Schwarzen-Watch first discussed possibility of "Terminator 5" back in late April, when CAA was shopping a Lin/Schwarzenegger "T5" package with a sticker price of somewhere in the neighborhood of $25-35 million. Of course, things went quiet on the killer robot front when the news of Schwarzenegger's paternity scandal broke one month later (cut to the T-800 saying "I know now why you cry"). Now that the furor continues to subside — or was subsiding, until Schwarzenegger wore a tastelessly hilarious "I Survived Maria" shirt in public — the project's percolating again. Here's what Lin had to say during an interview about the DVD release of the very satisfying "Fast Five:"
"'Terminator' is something I've been having a lot of fun with… just even this week, I had a great meeting with Arnold and James Cameron, just sitting down unofficially. And James is so gracious because he's not part of the project, he's not going to be producing, but it was great of him just as a filmmaker to take time out to just talk."
Cameron, who of course wrote and directed the first two "Terminator" films, performed a similar advisory role on 2009's "Terminator Salvation;" he was the one who suggested director McG hire "Avatar" star Sam Worthington to play Christian Bale's primary antagonist. Lin added that while rumors of his involvement in other series like "Die Hard" aren't true, "Terminator" is "a franchise that [he's] working on right now," though at this point it is all very tentative and loose and in no way a certainty. Having watched Lin grow as an action director on the last two "Fast & Furious" films, I say make it happen. I want to see him and Arnold bring the "Terminator" back. Of course I would pay to see Arnold in a "Terminator" from the director of "Cats and Dogs: The Revenge of Kitty Galore" so what do I know.
Do you want to see Arnold back as the Terminator? Tell us in the comments below or on Facebook and Twitter.