Jerry Lewis and Marilyn Monroe did WHAT?!?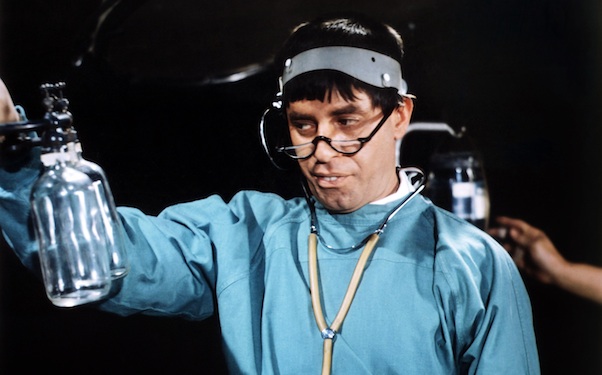 Posted by Matt Singer on
We don't usually cover gossipy type stuff on IFC.com. But technically, I don't think this qualifies as gossip. More like bragging.
Writer Amy Wallace spent eleven hours with legendary comedian and director Jerry Lewis recently, and turned their conversation into an excellent interview in the new issue of GQ. The wide-ranging profile covers the entire scope of Lewis' life and career: how he came to comedy, why he became a director (Billy Wilder gave him a big push), and what keeps him working at age 85. They also talk about sex, which Lewis was apparently having a lot of back in the day. When pressed about famous Hollywood partners, Lewis first claims he doesn't want to name names, but I guess when you've slept with one of the most beautiful women in recorded history, it's hard to resist a little self-congratulation.
"In the midst of another story, Lewis is suddenly insistent that Marilyn Monroe and President Kennedy — with whom Lewis was close — never had the affair many believe they had. When I look skeptical, he turns stern. 'I'm telling you what I know. Never! And the only reason I know is because I did. Okay?'

Wait, what??

He nods, adding that Monroe used sex like he uses humor: to make an emotional connection. 'She needed that contact to be sure it was real.'

Okay, but what was it like, I ask, to make love to the most famously tragic sexpot of all time?

'It was…' he says, taking a beat, 'long.' He smiles ruefully. 'I was crippled for a month.'"
What what whaaaat? The only conceivable reaction to this bombshell is a Jerry Lewis reaction: a spit take, a crazy face, and a high-pitched scream of "FLAVIN MAVIN SCHMAVIN HOT WITH THE NICE LADY WITH THE BIG THINGS AND THE NO GOOD!" Marilyn Monroe and Jerry Lewis? The woman who gave millions of men the seven year itch scratched up against the disorderly orderly? Apparently.
Obviously, Monroe isn't around to confirm or deny this story. Do I believe it anyway? Yes. And I'll tell you why. Because I want to believe it. If an attention whore as awkward and goofy as Jerry Lewis — no offense, Jer — can land Marilyn Monroe, it gives hope to all the awkward, goofy attention whores in the world. I just want to know how he managed not to gloat about it for fifty years.
Do you buy Jerry's story? Tell us in the comments below or on Facebook and Twitter.