Jennifer Lawrence will sing on "The Hunger Games" soundtrack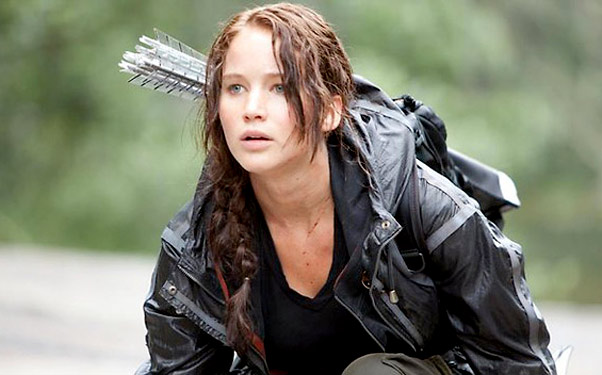 Posted by Brian Jacks on
Songs play an important part in "The Hunger Games" mythology, whether it's the father of lead character Katniss Everdeen singing a haunting ballad or the critical Mockingjay bird, the symbol for both the resistance and the cover of the books themselves, being inexorably linked to music. And now comes news that one of the pinnacle lyrical moments from the series, that of "Rue's Lullaby," will be performed by Jennifer Lawrence, the actress portraying Katniss.
The news comes from Oscar-winning musician T-Bone Burnett, who is composing "The Hunger Games" soundtrack along with frequent Tim Burton collaborator Danny Elfman. Speaking to MTV, Burnett said, "Yeah, we did that. We recorded that. And it'll be coming out soon."
In the books, "Rue's Lullaby" is sung by Katniss after Rue, a young girl whom Katniss has allied herself with, is mortally wounded in the arena-based fight to the death called the annual Hunger Games. The moment is broadcast throughout the fictional nation of Panem, and becomes a signature event both for the story's characters and readers alike.
While technically young adult, the book series is incredibly dark and mature in its themes, and has been embraced by fans of all ages. The film stars Lawrence, Liam Hemsworth as her best friend and Josh Hutcherson as the male counterpart who's thrust into the Hunger Games along with Katniss. "The Hunger Games" is scheduled for release March 23, 2012.
Below, see Burnett talking about Jennifer Lawrence's contribution to the soundtrack.
Are you psyched to see Hollywood's take on "Hunger Games"? Let us know below or on Facebook or Twitter.