Insert Credit: "Toy Soldiers: Cold War"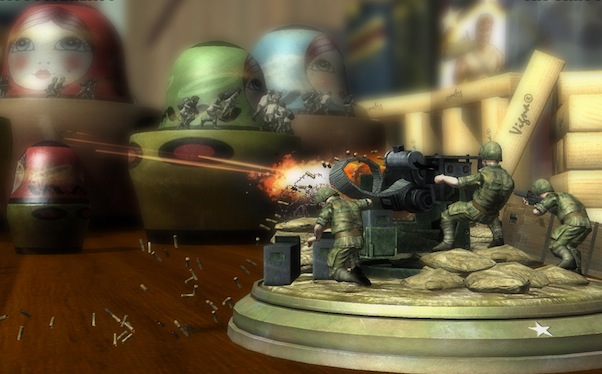 Posted by Evan Narcisse on
Insert Credit endeavors to suss out where you should be allotting your video game allowance, sifting out a single title from many and crowning it as The One Game You Need to Get This Week. Don't consider these reviews, gentle reader. Rather, think of Insert Credit as a mix of hands-on time, informed opinion and intuition.
For the week of August 16, 2011, you should insert credit into: "Toy Soldiers: Cold War."
War's often absurd. Bizarre coincidences can result in saving a man's life and equally outré twists of fate can make armies fall where victory was assured. A dark humor often reveals itself once history looks back at a battle's bloodshed and time's passing makes it easier to laugh with the soldiers who survived to live another day.
It helps if the soldiers are plastic.
"Toy Soldiers: Cold War" gets that. But, the game's also funny because it gives you a spray can of pesticide to use on enemy troops, right alongside a true-to-life anti-aircraft gun. Yeah, its goofy take on tower defense owes much to the sweaty death throes of the Cold War. The last feverish shakes of the decades-long tension between the U.S.A. and the U.S.S.R. gave us pop culture gold like "First Blood," the rest of Sylvester Stallone's "Rambo" movies and the rebirth of "G.I. Joe" action figure brand.
"TS:CW" makes you an armchair general of an army of "Joe"-like action toys. You'll use military weapons in a series of conflicts, where your success is contingent on careful planning and nimble battlefield response. You'll get to deploy all manner of big guns–anti-tank missile batteries, machine gun turrets, mortars–in toy form against miniature waves of Soviet action figures and vehicles. Better yet, you get to take over those units and blast tanks and planes to smithereens yourself.
On top of that, extra-special action figures, vehicles and weapons can be used, too. Anyone under 30 will get a flash of déjà vu when the "Rambo"-like commando storms into the fray. His hoarse battlecries will remind you of Stallone during the 1980s and you'll also flashback to just how powerful a hold the bazooka had on the teenage imagination in those years, too.
Since it's a hybrid of tower-defense games and third-person action, you'll never be able to win a battle on the strength of a Commando alone. Power-ups like the beefcake soldier are timed, for one. In addition, it's the placement and resource management that will ultimately win the day. Reacting to the waves of soldiers and/or vehicles effectively lets you put the right weapons in the right places, or swap them out, if needed. Online multiplayer lets you pit your strategic skills against other humans, too.
Tongue firmly in cheek, "Toy Soldiers: Cold War" pays like a high-speed, up-close-and-personal game of "Risk." And because the massacre's only happening to molded plastic, you don't need to feel bad about sending any mother's sons off to die.
Does "Toy Soldiers: Cold War" sound like your kind of game? Let us know in the comments below or on Facebook or Twitter.