Insert Credit: "Deus Ex: Human Revolution"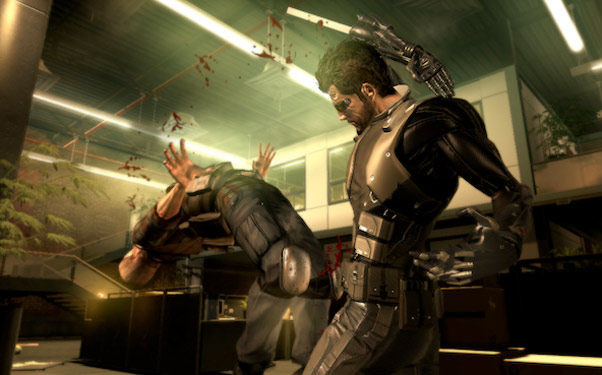 Posted by Evan Narcisse on
Insert Credit endeavors to suss out where you should be allotting your video game allowance, sifting out a single title from many and crowning it as The One Game You Need to Get This Week. Don't consider these reviews, gentle reader. Rather, think of Insert Credit as a mix of hands-on time, informed opinion and intuition.
For the week of August 24, 2011, you should insert credit into: "Deus Ex: Human Revolution"
When you start up "Deus Ex: Human Revolution" and venture out into its world, you might get a weird feeling. Talk to people, hack computers and watch news reports and it'll start to seem like this fictional construct's been living its own discrete life before you entered into it.
In a way, that's true. "DXHR" is the third game in the "Deus Ex" series, which offer a blend of action and roleplaying elements in a cyberpunk future where humans sport bionic enhancements. The first "Deus Ex" game stands as a beloved example of open-ended game design and more nuanced narrative shadings.
"Human Revolution" replicates much of what made the original "Deus Ex" work. You never feel locked into a particular playstyle, whether you're pursuing an objective sneakily or going in guns blazing. It's a credit to the Eidos Montreal design team that neither the stealth nor the combat feels they've been given short shrift. It's as satisfying to emerge victorious from a gun battle as it is avoiding one all together. The same problem-solving skills get tickled in either scenario; you're just using different tools.
Speaking of tools, the body of lead character Adam Jensen is essentially a human-sized multitool. After an attack by an anti-augmentation faction leaves him near death, the private security agent gets his life saved by client Sarif Industries. The head of the research firm implants extensive augmentations in Adam, who then goes out into the world to unravel the conspiracies festering in the background.
"DXHR" feels richly layered in nearly every area, from the complex hacking mini-game to the tense dialogue trees you navigate to the dense visuals of the overbuilt cities of 2027. The multipath structure means that you're never doing a mission wrong, just differently. It's the kind of the game you'll get lost in and that's the most futuristic thing about it.
Will you play "Deus Ex: Human Revolution" in a stealth or an action style? Let us know in the comments below or on Facebook or Twitter.