Insert Credit: "Insanely Twisted Shadow Planet"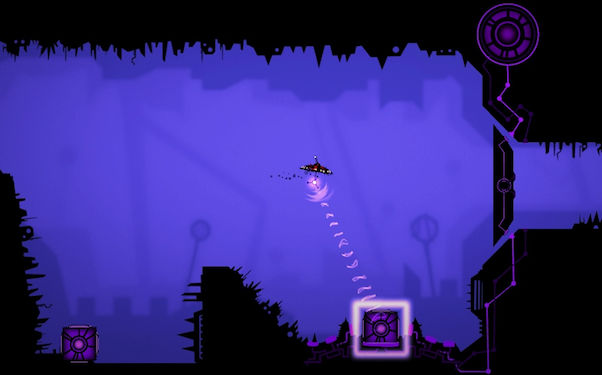 Posted by Evan Narcisse on
Insert Credit endeavors to suss out where you should be allotting your video game allowance, sifting out a single title from many and crowning it as The One Game You Need to Get This Week. Don't consider these reviews, gentle reader. Rather, think of Insert Credit as a mix of hands-on time, informed opinion and intuition.
For the week of August 4, 2011, you should insert credit into: "Insanely Twisted Shadow Planet."
Like a good cup of strong black coffee, "Insanely Twisted Shadow Planet" has been brewing for a little while now. I remember seeing a trailer for the game about a year and a half ago and being intrigued by the smooth animation and great art direction. Whenevr this thing got here, it'd be sure to have charm up the wazoo. But, as always, the crucial question with games is how that pretty thing on the screen feels once you've got a controller in hand.
Thankfully, "ITSP" plays excellently, mixing elements of old-school sidescrollers with sophisticated presentation for a sharp experience. There's a bit of an old-timey feel to the game, as if a silent movie and NES classics went off and had offspring. The game's the creation of Shadow Planet Productions-which is a partnership between comics artist/animator Michel Gagné ("The Iron Giant") and the Fuelcell Games indie dev studio. Gagné's artistic background shines through in all of the game's aesthetic elements. "ITSP" unspools with no written or spoken dialogue, telling its story solely with visuals and sound design. That story starts off with a mysterious probe turning a far-off sun into a giant, lightless orb. The sudden darkness prompts an daring UFO pilot to journey forth to the source of the attack to explore and somehow undo the shadowy aggression.
The titular planet harbors just enough creepiness to fee foreboding, but is so charmingly animated and realized that you'll still want to explore. That's important as "ITSP" falls under the genre called Metroidvania–after "Super Metroid" and "Castlevania"– where a game's environment consists of a labyrinthine structure dotted with seeming dead ends along its accessible throughways. As you poke around the environment, you'll discover new gadgets and new weapons that will make you more powerful and also let you open up areas and paths in places where you've already been. So, while the guided missiles you come upon are great for blowing up enemies, they'll also come in handy for creating paths in places where the UFO can't go initially. This kind of design really needs a compelling environment to live inside of and it gets one in spades with "ITSP."
Part of the game's challenge comes from managing all the weapons and gadgets you get and the environmental puzzle-solving will take a bit of trial-and-error in order to progress. All throughout, there's a great cinematic score to accompany the sprightly animation and tense action.
"ITSP" is a game where style–in terms of look and mechanics–is the substance and, in lesser hands, the game would be an unfulfilling mess. Instead, this Summer of Arcade title makes it so that the darkness of the Shadow Planet becomes a beacon as to what can be accomplished with good taste and execution.