"Hobo with a Shotgun" director working on "Blatant Violence High"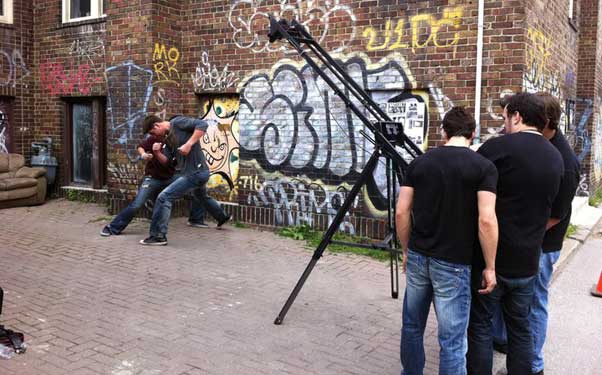 Posted by Aubrey Sitterson on
Did you enjoy the brutal, graphic violence of Jason Eisener's "Hobo with a Shotgun," but find yourself thinking, "Boy, if only the titular hobo was less old and grizzled, and more like how I see myself: a street-fighting vigilante?" If so, then you're in luck, as "Hobo" director Jason Eisener's next film is set to be "Blatant Violence High."
Last week, Bleeding Cool broke the news they learned from cinematographer Karim Hussain, who admitted that his next project is Eisener's second movie. Up until now we've known the project only as "BVH," but Hussain revealed what the acronym actually stands for.
When we first heard the movie's title, our brains immediately went to some kind of over-the-top high school brawl movie – like "The Outsiders" if "The Outsiders" wasn't for pussies. But alas, Bleeding Cool describes the flick as "a street fighting vigilante film featuring a lot of martial arts work," which while still awesome, isn't exactly the "Cromartie High School"-esque romp we were hoping for.
Whatever the movie ends up being, we're sure it'll be violent, bloody and fun as hell. Filming is currently ongoing, as evidenced by a photo posted to the Facebook of martial artist Nick Bateman. From the image (included above), it seems safe to say that there will indeed be street fighting in "Blatant Violence High."
What do you think about "BVH"? Are you prepared for another film from the director of "Hobo with a Shotgun"? Tell us in the comments below or on Facebook and Twitter.