How does Henry Cavill's "Man of Steel" outfit compare to other Superman costumes?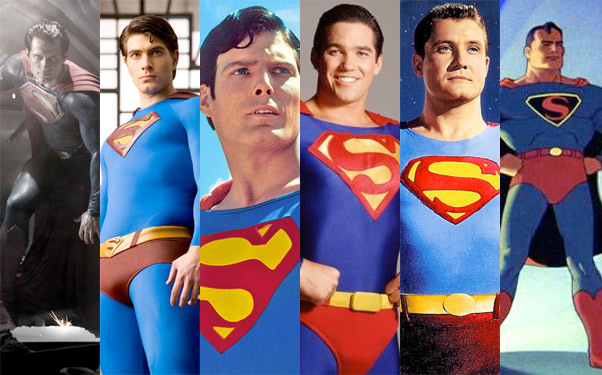 Posted by IFC on
Henry Cavill officially owns Superman's cape in "Man of Steel" now, and the first picture of him in costume shows that he will be wearing muted tones and a scaly texture. The costume marks just one more evolution in the history of Kal-El's tights, which have been loosened, tightened and reshaped on numerous occasions since the hero first appeared on the cover of "Action Comics" #1 in 1938.
Although Superman has experienced a handful of dramatic makeovers in the pages of DC Comics, most of his animated and live-action adaptation incarnations have played it safe. Nevertheless, producers and costume designers always find little things to tweak. Here's how Cavill's costume looks compared to previous Superman suits.
---
Animated Superman (voiced by Bud Collyer), "Superman" (1941)
The old Max Fleischer-produced Superman cartoons are legendary in the world of animation. Modern-day movie goers would likely do a double-take, however, if Cavill's "S" emblem showed up in a black-on-red design. "Man of Steel" will instead be sticking with the iconic red-on-yellow shield that should reassure viewers that they haven't errantly wandered into some bootleg Superman film from Southeast Asia.
---
George Reeves, "Adventures of Superman" (1952)
During the laidback 1950s, George Reeves actually got to experience a little breathing room between his skin and his Superman costume. His "S" emblem was neither too small nor too large, but his yellow belt was kind of a joke. Cavill's belt buckle appears to have some shine to it, indicating that his Superman won't be clad in some non-functional, quickly-cut strip of fabric that looks like his mom crafted it for a Halloween outfit.
---
Christopher Reeve, "Superman" (1978)
When the late '70s and '80s rolled around and Christopher Reeve donned the big red cape, director Richard Donner kept the colors bright and the costume conservatively true to the comics. Reeve did get some more topography on his belt buckle, however. As far as the material used to make the costume went, this incarnation left little of Superman's anatomy to the imagination, but the bright circus colors made the Last Son of Krypton look inherently more ready to appear at an 8-year-old's birthday party than the superhero appearing in "Man of Steel."
---
Dean Cain, "Lois and Clark: The New Adventures of Superman" (1993)
Superman's colors had to turn it down a notch for nighttime TV audiences when Dean Cain showed up with an "S" on his chest for ABC. The shield stayed large, but this was the beginning of a trend toward less circus-appropriate shades of blue and red. Cavill's look appears even more faded and looks much less like a giant multicolored piece of pantyhose and more like a thin suit of body armor.
---
Brandon Routh, "Super Man Returns" (2006)
The costume in director Bryan Singer's film looked a lot more like rubber or vinyl than it did Spandex. The colors weren't necessarily as muted as they were darker, and the costume had texture all over the place. Routh got a smaller shield on his chest that let him show off his abs a bit more than his predecessors were allowed to do. He also got a clearly pronounced "S" belt buckle. Cavill's "S" seems to have grown, and his belt looks like it has reverted back to being a simple oval. We still need to see him standing up straight in the light to tell for sure though!
---
Which is your favorite Superman costume? Let us know below or on Facebook or Twitter.