"A Very Harold & Kumar 3D Christmas" shows Neil Patrick Harris and the boys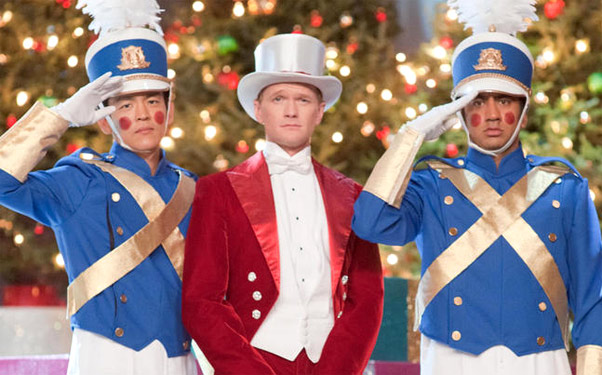 Posted by Aubrey Sitterson on
Set six years after they last teamed up in "Harold & Kumar Escape from Guantanamo Bay," your favorite stoners are coming back to celebrate the yuletide season with "A Very Harold & Kumar 3D Christmas." The movie hits theaters on November 4, but the first official still from the flick has just been released.
Seen first at Yahoo the image shows series stars John Cho and Kal Penn dressed like toy soldiers and flanking a very serious looking Neil Patrick Harris.
The plot of the third H&K movie sees the duo scrambling around New York City in an attempt to replace a Christmas tree that the two accidentally burned down while rekindling their estranged friendship. We might be going out on a limb here, but we're going to go ahead and say that Harold and Kumar probably smoke a little weed along the way, and that NPH does some totally crazy things that you totally wouldn't expect him to do in real life.
The movie also sees the return of Paula Garces, Eddie Kaye Thomas, David Krumholtz and Bobby Lee, in addition to appearances by Patton Oswalt, Thomas Lennon, Eminem and Danny Trejo.
What do you think about "A Very Harold & Kumar 3D Christmas"? Is this a holiday flick that you'll actually line up for? Let us know below or on Facebook or Twitter.