"Griff the Invisible," reviewed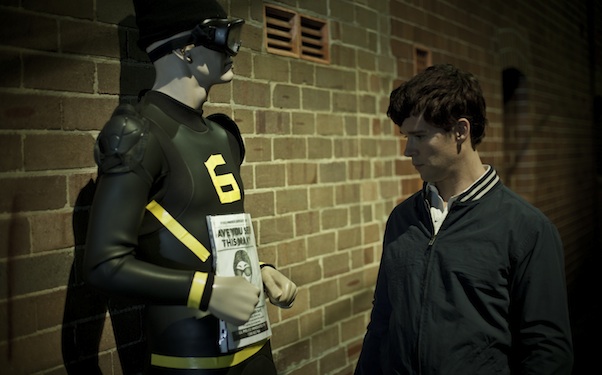 Posted by Matt Singer on
Pity the indie superhero. He can't afford big special effects or a badass car or a personal trainer to help him get big muscles. As a result, the superhero of indie movies is almost always a variation on the same guy, one who's a lot cheaper to portray on a budget: the crazy dude with no powers who transforms himself into a comic book character as an outward manifestation of some sort of internal distress. Either he's royally depressed (James Gunn's "Super"), or hallucinating thanks to an experimental medication (Hal Haberman and Jeremy Passamore's "Special") or he's a guy like the titular hero of "Griff the Invisible" who is… well, to be perfectly honest, I'm not sure what Griff's problem is. And that, in turn, is the movie's biggest problem.
Just who is Griff (beyond the fact that he's played by "True Blood" hunk Ryan Kwanten)? At work, he's a mild-mannered guy who frequently gets picked on by the office bully and mocked by his cruel co-workers. At night he dons a black rubber costume and prowls his neighborhood, stopping muggings and carjackings. When Griff admires himself in the mirror, his suit looks sleek and shiny. When he's sitting in a police station being interrogated by an unimpressed cop, it looks cobbled together from crap he bought at a craft store. In other words, a big chunk of Griff's extracurricular activities are figments of his imagination. But just how much?
It's never quite clear. And it's never quite clear, either, what exactly is the root cause of Griff's behavior. Is he an oddball or a guy with undiagnosed, high-functioning autism? Should we laugh at his antics or pity him? Maybe things are even more serious than that. Given the fact that "Griff the Invisible" is largely told from Griff's warped perspective, and the fact that the horrible abuse he endures for weeks would be stopped immediately in any real workplace, you could argue that the entire film is actually the paranoid delusion of a schizophrenic.
Griff's brother Tim (Patrick Brammall) is definitely worried about him; he's watched Griff's weird behavior lose him jobs in the past and now it seems to be happening again. But Tim's new girlfriend Melody (Maeve Dermody) is a bit quirky herself — her hobbies include trying to walk through walls — and she takes a liking to Griff's moonlighting/daydreaming. Even as Tim tries to get his brother to quit the superhero routine, Melody sends him even deeper into it. These scenes are played as heartwarming and unconventional love story. But consider them if Griff is actually schizophrenic. That makes Melody the worst kind of enabler. Instead of trying to get him treated, she pushes him deeper into psychosis. She spraypaints a jumpsuit and tells Griff it makes him invisible, then sends him off into a dark, abandoned warehouse to go fight crime. Even if Griff's just a strange guy, that strikes me as reckless behavior. What if there were real criminals in there?
I'm all for ambiguity in films, but it doesn't feel like writer/director Leon Ford left Griff and his underlying issues vague on purpose. It seems more like he didn't want to burden his quirky romantic comedy about two oddballs in love with the full psychological ramifications of his characters' actions. That's understandable to a certain extent, but ground-level indie superhero movies depends entirely on their realistic texture. This particular "What if superheroes existed in the real world?" story doesn't feel real at all.
Dermody has a lot of screen presence and she makes the best of her role as a nerd's dreamgirl, i.e. the gorgeous woman who's into science and comic books and is so socially awkward she can't land a normal guy. Kwanten has a sympathetic face, and a few moving scenes near the end of the film; he's surely got a future as a romantic leading man. I guess it's a nice message for the misfits of the world — and I include myself in that group — to see someone with eccentricities celebrated onscreen instead of vilified or mocked. But what if Griff's problems aren't just eccentricities? What if this guy needs some help? I'm not a doctor, but to me the symptoms are anything but invisible.
"Griff the Invisible" opens in limited release on Friday. If you see it, we want to know what you think of it. Tell us in the comments below or on Facebook and Twitter.