"Ghost Rider: Spirit of Vengeance" gets a new, flaming trailer with Nicolas Cage motorcycle action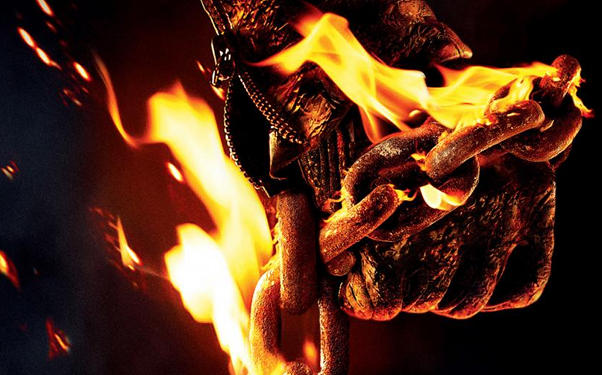 Posted by Rick Marshall on
The first "Ghost Rider" film might not have won over many critics (or fans) when it roared into theaters in 2007, but that hasn't stopped it from getting a sequel (or rather, a pseudo-sequel) in the form of next year's "Ghost Rider: Spirit of Vengeance." And now that pseudo-sequel has a brand new trailer, too.
The new trailer for "Spirit of Vengeance" puts the action front and center, giving off a slightly more polished and darker vibe than its predecessor. Ghost Rider's flaming fist clutching his trademark chain and his ability to (apparently) spit fire from his mouth all get highlighted in the video, along with the tagline "He Rides Again."
Of course, nothing is ever simple with "Spirit of Vengeance" directors Mark Neveldine and Brian Taylor, who are expected to use their high-octane filmmaking style to reinvigorate the Marvel antihero's big-screen presence. If nothing else, the "Crank" franchise directors will likely give us a fresh new take on Johnny Blaze even with Nicolas Cage reprising the role.
"Ghost Rider: Spirit of Vengeance" is scheduled to hit theaters February 17, 2012, and stars Cage, Ciaran Hinds, Violante Placido, Idris Elba and Johnny Whitworth. The new film sees stunt biker turned demonic antihero Johnny Blaze traveling to Eastern Europe in order to thwart the devil's attempts to take human form.
"Spirit of Vengeance" will be presented in 3-D and 2-D theaters, so there's a high probability of flaming chains looking like they're coming right at you.
You have been warned.
what do you think of the new trailer? Chime in below or on Facebook or Twitter.