Our five favorite friendly movie monkeys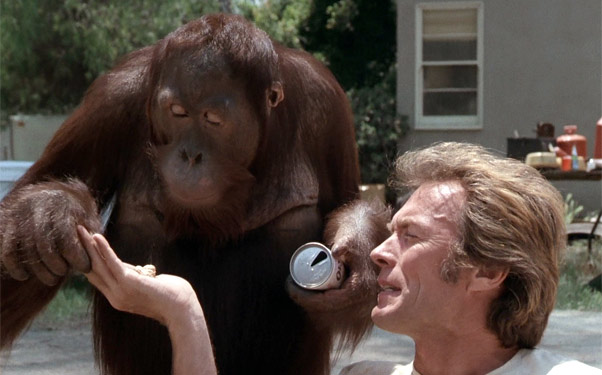 Posted by IFC on
Human-simian relations go terribly awry in "Rise of the Planet of the Apes" with James Franco this week. Unfortunately, it is not the first time that humans and monkeys have come to blows in film, but Homo sapiens have had a few ape friends over the years. In fact, sometimes chimps can even be heroes. Here are the five movie monkeys that we would most like to hang out with if given the chance.
---
5. Ed, "Ed" (1996)
Jack Cooper's (Matt LeBlanc) baseball-playing sidekick copped some attitude and gave a horrible Razzie-winning performance in "Ed." If you haven't seen it, just spend a couple of minutes watching the trailer, and you'll think you're looking at something concocted by the Onion or "Tim and Eric's Awesome Show, Great Job!" The film is very real, though, and it's a true testament to the fact that even the worst movie ever written can still be watchable if it has a monkey in it.
---
4. Elijah, "Being John Malkovich" (1999)
Lotte's (Cameron Diaz) pet chimpanzee suffers some deep psychological trauma, but he turns out to be a hero and one of the sanest characters in director Spike Jonze's wacky romp through John Malkovich's brain. It's normal to finish watching "Being John Malkovich" and be completely confused and angry about everything in the film. You can't help but love this little guy, though.
---
3. Clyde, "Any Which Way But Loose" (1978)
We can only assume that Clint Eastwood must have lost a bet when he signed on to make "Any Which Way But Loose." His character, prizefighter Philo Beddoe won a bet, however, when he acquired his orangutan companion Clyde. Together they have adventures, stir up trouble with a biker gang and go on to make one of the best worst films that that world has ever seen.
---
2. Dr. Zira, "Planet of the Apes" (1968)
Thanks to Colonel George Taylor (Charleton Heston) traveling through time and arriving in town one day, Zira (Kim Hunter) learns that the human's she's been experimenting on may not be totally stupid after all. By the time she gets pregnant and travels back in time to when humans were still in control in "Escape from the Planet of the Apes," she has every right to hate apes and humans alike. She's got a heart and thirst for knowledge inside of her, however, and would make for a perfect guest at cocktail parties.
---
1. Chim-Chim, "Speed Racer" (2008)
The Wachowskis' "Speed Racer" makes having a pet chimpanzee look like the most fun a kid could ever have. The car racing, fights, and colors are great, but Chim-Chim and Spritle's (Paulie Litt) wild ride in a runaway golf cart should be an amusement park attraction somewhere. If there's one monkey to befriend on this list, Chim-Chim is that primate.
---
Did we include your favorite friendly monkey? Let us know below or on Facebook or Twitter.