Drafthouse Films acquires "The FP"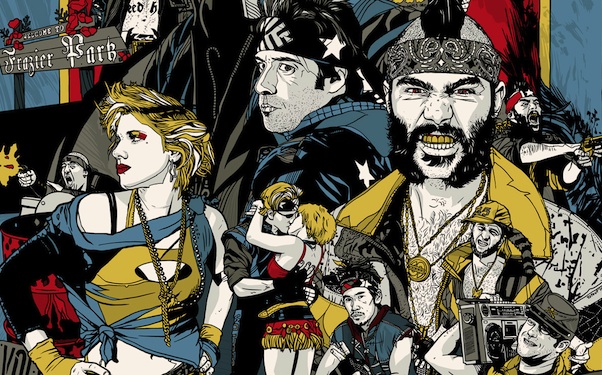 Posted by Matt Singer on
Good news, fans of drunken Dance Dance Revolution! The Brothers Trost's "The FP" has been acquired for U.S. distribution by Drafthouse Films. The infamous film premiered as part of the SXFantastic sidebar at South by Southwest 2011, where it was loved by some and hated by others, including a few members of its own production team, who loudly booed and heckled throughout the midnight screening I attended. Their behavior may or may not have had something to do with the ceremonial Four Loko race which took place before the movie, and apparently takes place before every screening of the movie (for my full report on that surreal evening, click here). SXFantastic is programmed by Alamo Drafthouse and Drafthouse Films CEO Tim League, so perhaps his acquisition of the film following a recent screening at Montreal's Fantasia International Film Festival isn't too much of a surprise.
League launched Drafthouse Films last fall with the edgy terrorist comedy "Four Lions." Clearly the man doesn't mind a marketing challenge. A movie that makes fun of (and in some ways empathizes with) Islamic jihadists couldn't be an easy sell in every market, and I imagine he faces a similarly uphill climb with "The FP." The film is stridently and defiantly weird: here was my plot description from my SXSW article:
"The FP" stands for Frazier Park, the area of California where the Brothers Trost hail from and which, if "The FP" is to believed, is perhaps the white trashiest place on earth. In the Trosts' demented vision the FP is a post-apocalyptic wasteland where rival gangs from "The 245" and "The 248" battle for control of the area's alcohol by playing Dance Dance Revolution. Whoever controls the booze controls the hobos, and whoever controls the hobos can keep the ducks in the park fed. And what is a town without ducks?
I also described "The FP"'s production values as "subterraneanly low-grade" which may have been giving them too much credit. But, hey, if "Rubber" — a movie about a killer automobile tire that mocked its audience for 80 minutes — can make $100,000, anything's possible. And while I didn't love "The FP" (though that may have had as much to do with the obnoxious hecklers as with the movie itself) I can see the appeal. It's schlocky, unique, and a lot of fun. If Drafthouse Films can book it into enough theaters that can legally hold Four Loko races before the midnight screenings, they've got a potential cult hit on their hands.
Here's the trailer for the film, which is currently scheduled for a U.S. release in the first quarter of 2011.
Interested in "The FP?" Do you enjoy Four Loko? Tell us in the comments below or on Facebook and Twitter.