Our five favorite least friendly movie monkeys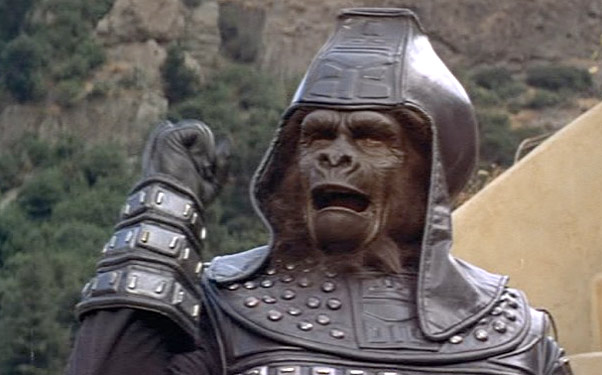 Posted by IFC on
Friendly monkeys in film do exist. Unfortunately, humanity receives a rude wake-up call this week in director Rupert Wyatt's "Rise of the Planet of the Ape," and the rebooted film franchise, based on Pierre Boulle's "Planet of the Apes" novel, features some highly intelligent, highly ticked off monkeys.
Humans have fought this battle before on the big screen, though. Many of the meanest movie monkeys had good reason to be irked, like explorers invading their homes, psycho magical witches giving them commands and being kidnapped. Here are our picks for the five least friendly monkeys among them.
---
5. The winged monkeys, "The Wizard of Oz" (1939)
They look happy and care-free, but these little blue slaves to the Wicked Witch of the West (Margaret Hamilton) rip apart Dorothy's (Judy Garland) friend The Scarecrow (Ray Bolger) and whisk her off to be imprisoned in a big, scary castle. They may dress in snappy red vests, but they're bad news to anyone who happens to anger their boss.
---
4. Dr. James Brewster, "The Ape Man" (1943)
In a classic Jekyll-and-Hyde-style scenario Dr. Brewster (Bela Lugosi) transforms himself into a hairy half man, half ape, which means that he has to find a way to become completely human again. Thankfully for him, he's got a gorilla sidekick to help him track down some human spinal fluid for his cure. Unfortunately for his neighbors, he's got to find someone to extract that fluid from.
---
3. General Ursus, "Beneath the Planet of the Apes" (1968)
When it came to human-hating, ego-maniacal bad guys in the first "Planet of the Apes" films, Ursus (James Gregory) was the gorilla to root against. The mutant humans beneath the surface weren't the nicest people, either, but Ursus wanted nothing more than total ape domination. He did wear one of the coolest helmets in the history of monkey military gear, however.
---
2. The gray gorillas, "Congo" (1995)
All the scary-looking puppet-gorillas in "Congo" wanted to do was protect their home, but pesky humans kept creeping in and trying to take their diamonds. There's a valuable lesson here. Never take diamonds from an ancient city guarded by primates with about a thousand times your muscle mass. They will rip your eyeballs out and throw them back out into the jungle without thinking twice.
---
1. King Kong, "King Kong" (1933)
The iconic misunderstood, mistreated, hunted down native on this list is none other than King Kong. You must have expected this when you first read our title. After all, he is probably the most famous character in all of film. Nevertheless, no single gorilla on the big screen has inspired fear on the scale that this fellow did. Thus, he gets our number one slot.
---
Did we miss your favorite? Chime in with your own picks in the comments below or on Facebook or Twitter.