Every "Final Destination" death in one supercut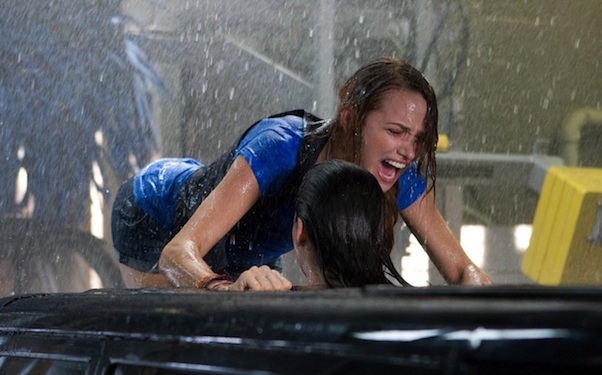 Posted by Matt Singer on
Just in time for "Final Destination 5," here, via the folks at Screened, is every death from the first four "Final Destination" films — insert obligatory joke about four successive films each with the word final in the title — in one handy, dandy, and extremely bloody video. Unless you work in a butcher shop, this video is definitely NSFW.
I'd never seen any of the "Final Destination" films until recently, when I watched the first movie as part of my research for my list of The 25 Oldest Looking Teenagers In Movie History; "FD1″'s Kerr Smith ranked in at number 22. Aside from the odd geriatric high schooler in the cast, I was actually pretty impressed by the film. The kills were gory and suspenseful, sure, but the really scary part of the original "Final Destination" was its bleak, fatalistic worldview. Struggle and rage all you want, the film says, death is going to get you in the end. That's some heavy stuff for a schlocky slasher movie. There's no better movie villain than Death Incarnate, since that's one baddie we all have to face at some point.
After I saw "Final Destination" I put it to Twitter to find out whether the three sequels were worth my time. No, was the resounding response, though there was some support for the second film, which is the only sequel that connects in a strong narrative sense to the first "Destination." It's not very fair to judge movies solely on the basis of out-of-context clips of their bloodiest moments, but I sort of see why my followers voted the way they did. The first "Final Destination" is played straight. The sequels turn the premise — Death rectifying an accounting error by systematically murdering people who've previously escaped a gruesome fate — into an excuse for over-the-top executions. If you're a fan of the first "Nightmare on Elm Street" or "Halloween," you know this is not an uncommon happenstance in the world of horror. Horror franchises routinely remove the most intellectually stimulating parts of their concepts for sequels that go straight for the goose bumps.
Still, compiled in this fashion, you have to give the "Final Destination" creators some credit. They are very good at killing people. Death must watch these things with a Moleskine. No doubt he'll be there taking notes when "Final Destination 5" opens this Friday.
Are the "Final Destination" sequels worth your time? Tell us in the comments below or on Facebook and Twitter.