Kevin Spacey is the "Father of Invention" in new trailer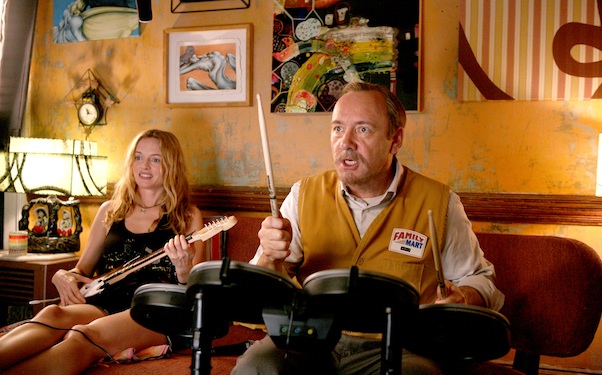 Posted by Matt Singer on
Anchor Bay Films has released the trailer for the upcoming Kevin Spacey vehicle "Father of Invention" (he's a father, not the father, I think). The film premiered at the Berlin Film Festival back in 2010, and will finally come to theaters on October 14.
The trailer doesn't look bad at all. The reviews out of Berlin didn't look great — i.e. "comedies don't get much more unfunny than 'Father of Invention,'" Kirk Honeycutt from The Hollywood Reporter — but the trailer doesn't look bad at all. And the cast looks impressive, with Spacey backed up by Johnny Knoxville, Heather Graham, John Stamos, Craig Robinson, Michael Rosenbaum, and Virginia Madsen. As a lapsed Kevin Spacey fanatic — who once convinced someone to buy a Playboy magazine for him so he could read the Spacey interview in it (and then destroy the pictures of naked women because who would ever look at something like that) — I've been waiting very patiently for a comeback. "Casino Jack" and "The Men Who Stare at Goats" both looked promising, but neither film really amounted to much. He was great in this summer's "Horrible Bosses" revisiting the old "Swimming With Sharks" asshole boss archetype; if "Father of Invention" and then "Margin Call" (opening one week later on October 21) both deliver, Spacey's really got something cooking this fall en route to his highly anticipated Netflix series developed with his old "Se7en" director David Fincher.
What's your favorite Kevin Spacey performance? Tell us in the comments below, or on Facebook and Twitter.