Exclusive premiere: Madi Diaz "Let's Go"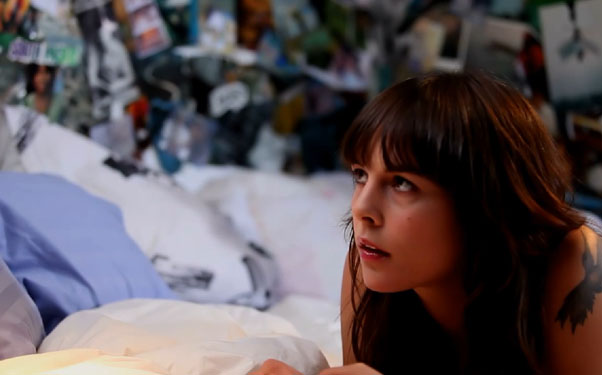 Posted by Brandon Kim on
Nashville's Madi Diaz appeared in the 2005 documentary "Rock School" (which later inspired Richard Linklater's "School of Rock"), but she first caught my attention only last year with an incredible Stevie Nicks cover and then a sweaty performance of "Let's Go," shot in a van at the dangerously intemperate, Bonnaroo festival. She's just finished a proper collaborative video for the song with director Matt Amato — much of the footage shot by herself and her pals using the retro-digital Harinezumi camera, which purposely lends a nostalgic image quality by mimicking the charm of super 8. I asked her about this, but that was really just an excuse to get her to talk about kissing and Fleetwood Mac.
Tell me about the origins of this infectious pop song, from what place did it spring forth?
I'm not sure, but I think it was on my basement ceiling just wandering, floating around waiting for someone to walk head first into it. I could hear something in the foundation that my guitar player, Kyle Ryan, was building on his home studio that was just begging for something playful to be laced over top. It was our first home in Nashville and that basement was magical. Too bad the rest of the house was kind of in shoddy shape.
video player loading
.
.
.
Who are you kissing?
I have no idea. Kissing sure is fun though, right? Actually…I think his name is Erik…Erik with a "k". Yeah that HAS to be it, why would I remember such specific spelling otherwise? He was a very sweet guy. A gentleman even. I had never kissed on camera before and he was very forgiving.
You shot some of the footage too with a Harinezumi? What was it like collaborating with Matt Amato on the finished video?
Matt. I could never ever say enough about Matt Amato. He has an indescribable presence; this warm loving serene calm with intense interest and excitement bubbling beneath his exterior. He's some sort of amazing mind reader and balances it with his trust in you and yours in him. Example, that kiss was not planned (at least not to my knowledge) and yet I felt like it was somehow almost our idea together. Shooting the footage together was just one big adventure day. A getting-to-know-you adventure day. There were 7 of us shooting the Harinezumi's all over the place. Actually, because all of the footage was so fun and unique and filled with story and adventure, we decided to create vignettes for each camera navigator to give a little more of an in depth look at how much work went into shooting this video. So many different incredible perspectives and such absolutely stunning work by all, it would've been such a major shame to only use enough to make a four minute music video! It was truly such a wonderful experience and so, so fun to be apart of a visual artist's world for a moment.
If you could go anywhere right now, where would that be?
Late summer, 7:30 pm in the middle of a massive pine forest lying on a huge, thick bed of red pine needles looking up at the sky with my eyes half closed. The prettiest light in the world. And not one sound — only forest sound. No cars, no planes, no highways, no people, no white city noise, just pine tree forest noise.
That Fleetwood Mac/Stevie song you did with Keegan Dewitt is almost traumatizing it's so beautiful, and I don't normally care for Fleetwood Mac covers. How did you two piece that one together?

Thank you! Funny you should say, but before Keegan showed me "Wild Heart" (during his super heavy Fleetwood obsession phase) I didn't spend much time on it either. But whoa, watching the video of Stevie Nicks just singing her heart out during her backstage photo shoot and her voice just soaring over everything just made my heart jump over and over. Keegs was putting together some material for a session he was doing in town and asked me to join him on this song, and I grabbed a little toy plunker piano that we had strapped a little Casio buddy to and we cracked down. We used the progression straight from the video as that was the one that made us both swoon so hard. Still makes us swoon.
Diaz's EP "Far From Things That We Know" is out September 20th on tinyOGRE with a full-length slated for early 2012. She kicks off a tour today (with Keegan Dewitt on most dates). Check out her website for some free tracks.
Madi Diaz Tour Dates:
8/8 @ Imogene & Willie, Nashville, TN
8/10 – St. Louis, MO @ Old Rock House*
8/11 – Columbia, MO @ Mojo's*
8/12 – Lawrence, KS @ The Bottleneck*
8/13 – Lincoln, NE @ Bourbon Theatre*
8/17 – Albuquerque, NM @ Low Spirits Bar & Stage*
8/18 – Tucson, AZ @ Solar Culture Gallery*
8/19 – Mesa, AZ The Nile – Basement*
8/20 – San Diego, CA @ Bar Pink*
8/22 – San Francisco, CA @ Cafe du Nord*
8/23 – Santa Barbara, CA @ SoHo
8/25 – Los Angeles, CA @ Hotel Café*
8/28 – Los Angeles, CA @ Sunset Junction
8/30 – Denver, CO @ Larimer Lounge*
9/1 – Minneapolis, MN @ 7th Street Entry*
9/2 – Evanston, IL @ SPACE*
9/3 – Maquoketa, IA Daytrotter Barnstormin/Codfish Hollow Barn
*co-headlining with Keegan DeWitt
Are you swooning? Let us know in the comments below or on Twitter or Facebook!