Fall Preview: Elizabeth Olsen discusses escaping a cult in "Martha Marcy May Marlene" and breaking from the traditional Olsen Sister path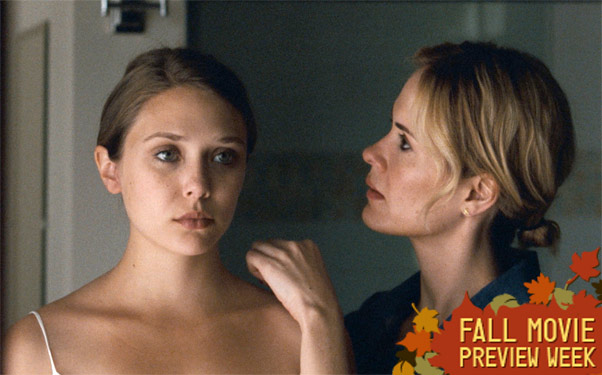 Posted by Rick Marshall on
In "Martha Marcy May Marlene," actress Elizabeth Olsen plays a young woman who struggles to acclimate with life after escaping an abusive cult. Winner of the Directing Award and at this year's Sundance Film Festival and nominated for the Grand Jury Prize, "Martha Marcy May Marlene" is the feature-length film debut of writer/director Sean Durkin, and was one of the most talked-about films at the annual festival.
As the younger sister of twins Mary-Kate and Ashley Olsen, Elizabeth is no stranger to cameras, but in "Martha Marcy May Marlene," she arrives in the Hollywood spotlight by a decidedly different path. I spoke with Olsen recently about the upcoming limited release of "Martha Marcy May Marlene" in theaters, the responsibility of bringing such a tense, ripped-from-reality story to life, and the award-friendly film's place in her burgeoning acting career.
---
IFC: Cults have been in the news quite a bit lately, so I assume there's no shortage of research material to be found out there. This feels like the sort of role you need to really get inside in order to pull it off, so what did you do to create the right headspace for your performance?
EO: When Sean wrote it, he was inspired by someone he knows – her story. It's not a retelling of her experience at all, but it is inspired by it. She was involved in a sexually abusive cult. So for me, rather than doing research from an outsider's perspective — I didn't want to meet her or infringe on her privacy — Sean kind of clued me in on everything that happened to her within her first year.
She didn't actually tell anyone what happened to her for a year. She couldn't put it into words herself, so it sort of comes from that, and hearing what happened to her while she was there and why she left. There was a man who was sort of like John Hawkes' character for her. Sean told me she remembered seeing him wherever she went for an entire year, and lived in fear of that. Her personal story was what I needed as a launching point.
video player loading
.
.
.
IFC: When we see so many of these news reports about cults and people taken in by them, it's easy for us to say, "Oh, I'd never fall for that," or write it off as something that only happens to other people. As you were doing the film, didyou find yourself understanding how someone with common sense might get roped into this type of scenario?
EO: Absolutely. Sean wanted to make sure that people couldn't write off these characters as spacey or unintelligent. He wanted to make sure that these people could be anyone. That was a very conscious choice on his part, but also for me, because when you think about it, all it takes is someone who's really vulnerable and has a huge void in their life — whether it's a void of meaning, or family, or love. That's all it really takes.
And it always starts off with a good idea about how to live life, too. In this case, it's a self-sufficient farm where everyone's kind of equal. There are just these elements that make you think, "Wow this is how society really could live happier." And soon you end up thinking things like, "Well, your body really is everyone's body," and that sort of thing. That's just the beginning of being manipulated. You don't have to just be someone who's susceptible to peer pressure or anything like that.
IFC: You and Sean both seem to be at similar points in your careers right now. Did it feel like you two were in sync professionally when it came time to make this film? Did that feeling add anything to the movie-making experience with "Martha Marcy May Marlene"?
EO: We do have a very similar personal theory and reason for why we like making movies. I think because we have a similar goal and the same principles, that's why we still get along as friends after making the movie.
IFC: "Martha Marcy May Marlene" is a unique film to take on at such an early point in your career. Did it feel like a unique experience? Why was this the right film to do at this point in your life?
EO: First off, this is only my second job opportunity, so this being my second job opportunity is kind of remarkable to me. To me, this was such a challenge and it was something unlike all of the other scripts I was reading. When you're an unknown, you don't really get to see a lot of the great scripts. You feel like a scavenger sometimes, like you're eating people's leftovers or something. [Laughs] So when I got to read this script, everything in my being was like, "Oh my god, this is so right. I would love to do this."
IFC: How did the script arrive in your hands?
EO: It was one of the scripts my agent gave me, and I fell in love with it and wanted to do it so badly. I think Sean knew he wanted to cast someone who was an unknown – not necessarily not experienced, but an unknown of some kind. And yes, I think we both sort of met on the same level of tonality, and during the audition, I think we both understood we approached work the same way. So it was a good match.
IFC: While "Martha Marcy May Marlene" has a great supporting cast, the film is clearly resting on your shoulders. Your character is the foundation of the entire story. Was that a daunting prospect for you?
EO: It could've been, but the truth is that I was cast three weeks before we started filming, and I was filming another movie at the time called "Peace, Love, and Misunderstanding," so I didn't have the extra time to psyche myself out. That's the truth. If I had two months leading up to it, I'd probably be worried about how I was going to prepare, and trying to read all sorts of books and psyching myself out. But all I had was the script and my instincts for those three weeks, and in between scenes of the other movie, I just tried to analyze it and make the best choice possible for what was to come.
So no, I just didn't have the time to psyche myself out.
Also, while we were filming it, because I'm very new to making movies, I didn't really understand the festival circuit and the larger independent film environment. For me, making the movie was in our environment, it wasn't in the world's environment. It was just this small world, and whatever happens with the movie happens, and I didn't think anything more about it until they started talking about it going to Sundance. Now I'm learning about a whole other aspect of this industry.
IFC: You're supported by a pair of really impressive actors in "Martha Marcy May Marlene" – John Hawkes and Sarah Paulson. Did you find yourself learning from them as the filming went on? What were some of your takeaways from the time you spent with them on the film?
EO: John's a really selfless actor, and when he's offscreen, he does everything he can do to get a new reaction to something, and he always says, "If you need anything or if there's anything specific I can do to help, just tell me." I had no idea what to tell him. I was like, "I have no idea what I even need." [Laughs] But what I learned from him is that there is a way you can be effectively helpful offscreen for another actor rather than just being present. You obviously want to be present when someone else is working, but he'd do something extra.
Sarah was like a sister to me. She and I became really, really friendly, and it was almost frustrating to Sean, because we'd be singing or laughing between takes of scenes that really weren't funny. With her, the ability to be able to step outside of what you're doing was a really great lesson.
"Martha Marcy May Marlene" hits theaters in limited release October 21, 2011. The film is written and directed by Sean Durkin and stars Elizabeth Olsen, John Hawkes, and Sarah Paulson.