"El Shaddai" lets you beat the holy heck out of the heavenly host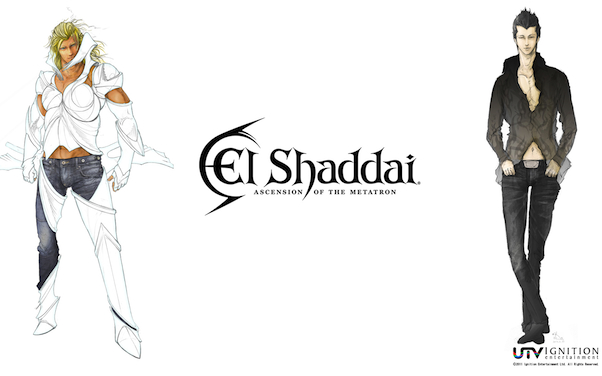 Posted by Evan Narcisse on
Video games have gone to rarefied places for inspiration before. There was that 8-bit "Great Gatsby" game a few months back and Electronic Arts put out a game inspired by "Dante's Inferno" some years ago. Celestial folklore from Japanese mythology has inspired such great games as "Otogi" and "Okami." Nevertheless, it's still rare that you get something that draws on the Judeo-Christian tradition like "El Shaddai: Ascension of the Metatron" does
Just released by Ignition, "El Shaddai" recasts the Book of Enoch as a playable experience. The text in question is an apocryphal one for most Jewish and Christian faiths, with the exception of the Ethiopian and Eritrean Orthodox Churches. There's some bits of canonical Old Testament stories that wind up I the game, as well.
In the plot of "El Shaddai," as in the Book of Enoch, angels tasked with watching over humans mate with mortals. This transgression produces monstrous abominations called Nepheleim, which understandably ticks off the Almighty. God's right-hand seraph Luciphel suggests that to God that one lone, just human named Enoch venture forth in His name and defeat the angels. (Luciphel experiences his own fall later, complete with a slight name change) After a journey to the Tower of Babel, Enoch enters the blasphemous structure to find seven of the main Grigori, those fallen angels who've done ungodly things, have created their own worlds. They think they can do better than the Big Guy and Enoch has to deliver the message that they can't via a God-mandated ass-whupping.
The vision of biblical myth delivered by "El Shaddai" is minimalist, slick and cool in the most modern-day sense. Luciphel nurtures a taste for designer jeans and rings up the Creator on his cell phone. It's the visuals that make this game sing and they vary greatly with each of the seven fallen angels' realms. One minute, you're in a barren, haunting landscape and then you're jumping into the dizzying chaos of a would-be nightclub. Despite the but comes off as painterly throughout.
The mechanics are spare, too, with a single combat system that unleashes different combos based on the rhythm of your taps. Enoch uses the same weapons that his angelic enemies do and they get defiled with use, so you need to purify them by blasting them clean with white light. It's a very sacramental idea but one with gameplay function, too. You're vulnerable to attack while purifying and might think better of trying out different weapons if they're available.
However, you're not going to win every battle in "El Shaddai" and death gets handled in a different way than in most video games. You can repeatedly come back from a killing blow, provided you press the appropriate button fast enough to revive Enoch. You're not always going to resurrect but you're always going to try.
"El Shaddai" stands out for trying something different. It's not without flaw–certain parts feel like you're just meandering through pretty environments–but still manages to create a feeling that's all its own.
If you've gotten "El Shaddai," do you think it's heavenly or hellish? Let us know in the comments below or on Facebook or Twitter.