Don Cheadle is Captain Planet in new Funny Or Die sketch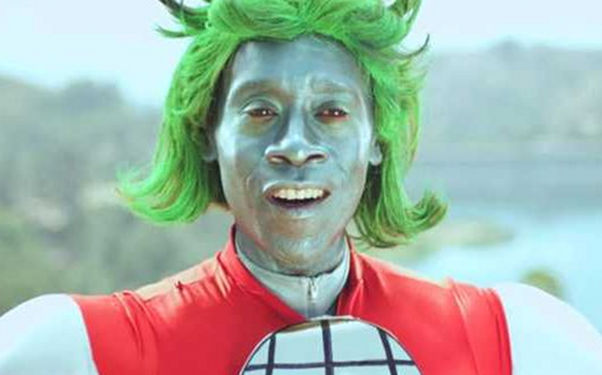 Posted by Rick Marshall on
Captain Planet isn't the most well-known hero, but he apparently has a fan in "Iron Man 2" actor Don Cheadle.
In a new skit posted on FunnyOrDie, Cheadle takes on the mantle of the early 1990s superhero who fought environmental injustice with the help of a group of multiculutural kids and the ambiguously defined powers of earth, fire, wind, water, and heart. Of course, in this version of Captain Planet, the superhero gets a little carried away with his mission to rescue a forest from evil loggers.
Yes, that's right: that was the guy who played a walking weapon of mass destruction called "War Machine" taking a turn as "Captain Planet," the mullet-headed protector of Mother Earth.
You win this round, FunnyOrDie team.
Still, as ridiculous as this skit is, it's worth noting that just last month it was announced that Cartoon Network was developing a live-action movie based on the "Captain Planet" animated series. The movie will be produced by Don Murphy and Susan Montford, who also served as producers on the live-action "Transformers" movies.
"With the earthquakes, tornadoes, melting icebergs and all the other problems threatening the world right now, Earth really needs her greatest defender," said Montford in the initial "Captain Planet" announcement.
The big question now becomes: Will Don Cheadle's version of Captain Planet be better than Cartoon Network's take on the character?
Watch it for yourself and begin pondering, folks. The power is yours!
What did you think of the "Captain Planet" sketch? Chime in below or on Facebook or Twitter.