Fall Preview: "Shark Night 3D" director David Ellis' top 10 animal horror movies (with video)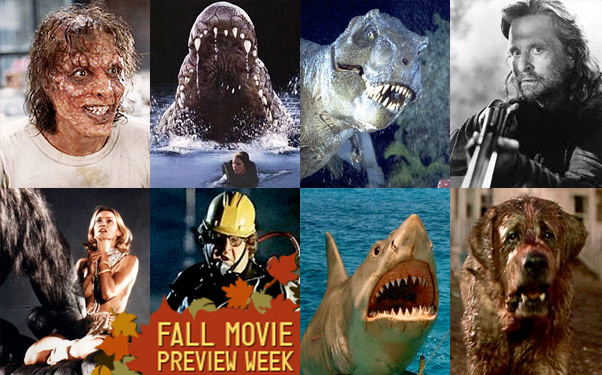 Posted by IFC on
David Ellis has made a name for himself directing some of the most memorable horror films around, including "Snakes on a Plane" and "The Final Destination." In his new film, "Shark Night 3D" (opening 9/2), Ellis unleashes the monsters of the deep onto an unsuspecting populace. The result is some awesomely bloody death scenes.
But Ellis is also a cinephile, and he was kind enough to pull together his own favorite animal-focused horror films. So without further ado, take it away David…
---
10. "THE FLY" (1986)
Jeff Goldblum as a giant fly. What more can you ask for in a movie?
---
9. "ARACHNOPHOBIA" (1990)
The '90s had so many great animal horror movies and this movie about a South American killer spider that hitches a ride in a coffin to the U.S. is one of them.
---
8. "THE GHOST AND THE DARKNESS" (1996)
Based on a true story of two lions in Africa that killed 130 people over a nine-month period. Michael Douglas, who I worked with on "Fatal Attraction," starred, and he is awesome.
---
7. "CUJO" (1983)
Watch out for a cute Saint Bernard that contracts rabies. This movie shocked people because they always saw Saint Bernards as mountain rescue dogs, and I am sure it pissed a lot of Saint Bernard owners off.
---
6. "LAKE PLACID" (1999)
Directed by my friend Steve Minor, this movie had the perfect blend of comedy and horror, plus the amazing Betty White.
---
5. "ANACONDA" (1997)
Who doesn't love Jon Voight and the sexy Jennifer Lopez? Walt Conti, who made the animatronic sharks for "Deep Blue Sea" and "Shark Night 3D," made the giant snake for "Anaconda."
---
4. "KING KONG" (1976)
This is an epic movie featuring a giant ape that pays the price for falling in love with a blond beauty. I think everyone cried at the end also fell in love with Jessica Lange.
---
3. "JURASSIC PARK" (1993)
Steven Spielberg does it again as the cloned dinosaurs run amok in a theme park. Filmed on the island of Kauai where I have a second home.
---
2. "THE BIRDS" (1963)
Alfred Hitchcock freaked people out with one of his best films, as birds attacked people in increasing numbers and with increasing viciousness.
---
1. "JAWS" (1975)
The best one ever. People still have phobias about swimming in the ocean thanks to a director named Steven Spielberg.
---
David Ellis' new film "Shark Night 3D" opens September 2, and is featured in our 2011 Fall Movie Preview Guide.