Batman and Bane brawl in 'The Dark Knight Rises' set pics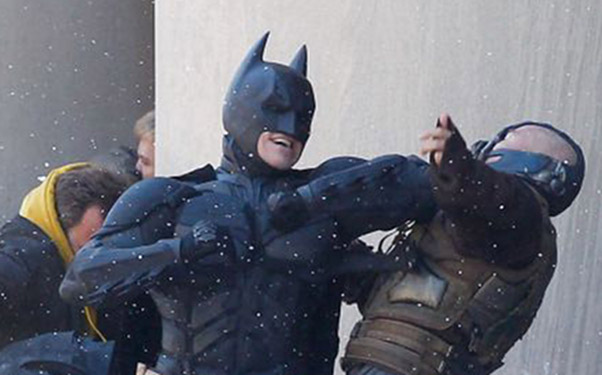 Posted by Rick Marshall on
When you're filming a project as high-profile as "The Dark Knight Rises," you can always expect to see photos pop up online any time you film a scene in public.
Such was the case for this weekend's Pittsburgh shoot for Christopher Nolan's third and final Batman movie, and apparently there was quite a bit to see. (Spoiler Alert!)
Over at Getty Images, there's a massive number of new shots from the set featuring Batman (Christian Bale) and Bane (Tom Hardy) in the midst of a massive melee, duking it out. There's also a nice shot of the redesigned Tumbler, Batman's tricked-out vehicle for the new film.
Here's a pair of our favorite shots:
Along with all the photos, there are also a few videos floating around the 'net showing a huge brawl involving the Gotham police force. Batman and Bane can be seen trading punches in the middle of the mess, fighting their way from one side of the shot to the other.
Check out this video below, courtesy of Youtube user subaruwrxfan:
"The Dark Knight Rises" hits theaters in 2012.