Dan Aykroyd claims "Ghostbusters 3" will happen with or without Bill Murray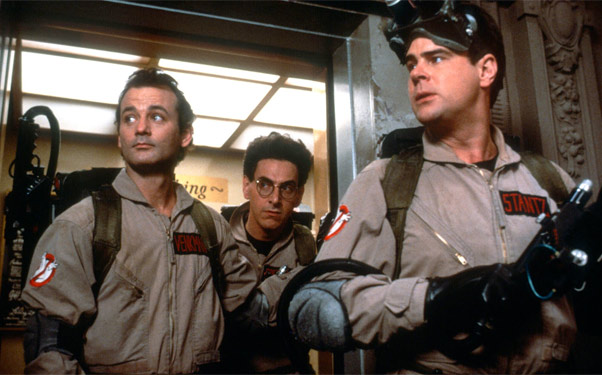 Posted by Aubrey Sitterson on
Since Dan Aykroyd wrote a script for it in the 1990s, "Ghostbusters 3" has been a source of near constant fan speculation and hand-wringing, and was only amped up with the 2009 release of "Ghostbusters: The Video Game," which made use of some elements from that original script. Now, the impossible dream seems closer than ever to reality, with Aykroyd himself revealing quite a bit of new information on the film.
Coming Soon picked up on Aykroyd's comments on a recent episode of Dennis Miller's appropriately named radio show, "The Dennis Miller Show." The big story? That the current plan is to begin filming in Spring 2012.
After complimenting the script and while acknowledging that Bill Murray was the lead in the previous movies, Aykroyd pointed out "what we have to remember is that 'Ghostbusters' is bigger than any one component," explaining that the plan for the next movie is "to hand the equipment and franchise down to new blood."
This passing of the torch will be necessitated by the physical states of both Aykroyd's character Ray, as well as Harold Ramis' Egon. While Ray is blind in one eye with a bad knee, Egon is simply too fat to get into the harness, which is either hilarious or depressing depending on how you feel about Ramis' real life corpulence. Maybe both.
Of course, this wouldn't be the first time that someone tried to spawn a new generation of Ghostbusters, as the cartoon "Extreme Ghostbusters" gave it the old college try back in the late 1990s. Like that new crew, "Ghostbusters 3" is meant to feature a female team member, though there's still no word on whether the group will be totally extreme (i.e., also include a black guy, a Hispanic guy and a dude in a wheelchair).
While there's no official casting news to report yet, Aykroyd did state, "I like this guy Matthew Gray Gubler from the 'Criminal Minds' show," which finally proves it for us: Only old people watch CBS.
Who would you like to see strap on the Proton Packs in "Ghostbusters 3"? Tell us in the comments below or on Facebook and Twitter.