"Cut the Rope: Experiments" follows up on the smash mobile game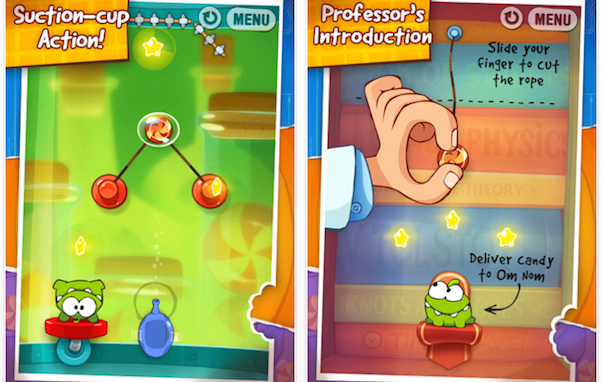 Posted by Evan Narcisse on
Unless you've been under a very cozy rock, there's no escaping that the popularity Apple's iDevices has had a great impact on the video game industry. Among the changes wrought by the iPhone-centric seismic aftershocks has been the way that sequelization occurs on App Store games.
So many of the games on Apple's digital download hub are priced as impulse buys with free content updates that keep you playing for as long as possible. These updates frequently offer new mechanics that add depth to the initial experience. "Angry Birds" has introduced the Toucan boomerang bird in this way and the pay-for-play Mighty Eagle, which clears tough puzzles for a small fee. With new chapters to long-tail games like "Angry Birds" coming regularly, the question gets posed: what exactly constitutes a sequel?
Indie dev studio ZeptoLab tries to answer that matter with "Cut the Rope: Experiments." It's the follow-up to the massive iOS hit "Cut the Rope," where players need to perform the titular action to feed candy an adorable extra-terrestrial named Om Nom. In levels posed as a series of boxes, the sweet treats are attached to strings and a precise sequence of cuts is necessary to create the proper trajectory to get that sugar into Om Nom's mouth. Along the way, other gimmicks–like candy floating in bubbles that need to be popped and gusts of air that change the direction of candy–get introduced.
"Experiments" adds a few wrinkles to this design. The physics-based puzzler introduces two new devices to aid players in their quest to feed Om Nom. A rope launcher that automatically attaches to candy helps you navigate around tricky obstacles while the candy's falling through a level. The other's a suction cup that you can place wherever you want on the level with a tap of your finger for precision placement of the precious candy. This all happens as a new character–a loopy scientist called The Professor–who's trying to figure out Om Nom's origins and you'll get cutscenes and commentary on your performance as you move through the levels.
Is this enough to call "Experiments" a sequel as we generally think of them? It's tough to say. Though it comes with 75 new levels and a skeletal plot, this new title doesn't change that much about the core experience. In fact, the first third of the game rehashes stuff that seasoned "CTR" players will already know how to do and won't provide much of a challenge in that regard. The rope launcher and suction cup levels are the real newness, contained in the latter two-thirds of the game, which aren't terribly hard either.
Still, one consideration for starting fresh is the fact that ZeptoLab's releasing "Cut the Rope: Experiments" on their own. They'd previously had a publishing deal with Chillingo, who's since been acquired by EA. So, you can look at "Experiments" as a declaration of independence by the UK developer. It welcomes new players with a re-introduction, and gives a few new features to point the way to a new direction. The original "Cut the Rope" cost a measly $0.99 and added a crap-ton of free updates after launch, knocking the total number of levels up to 200. ZeptoLab will probably support "Cut the Rope: Experiments" in the same way, and the combination of robust add-ons, self-publishing and new gameplay mechanics should qualify it as a full-fledged sequel. Best of all, "Experiements" is still only 99 cents, making it a bargain whether you think of it as a true follow-up or not.
Do you think "Experiments" is going to be better than the original "Cut the Rope"? Let us know in the comments below or on Facebook or Twitter.