Five hilarious anachronisms in "Colombiana"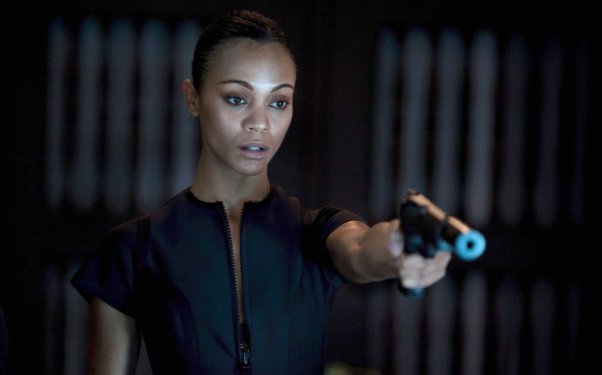 Posted by Matt Singer on
Look, I realize that we call movies like "Colombiana" "big, dumb action films" for a reason: they're supposed to be kind of stupid. We don't expect great intellectual insight from a director named Olivier Megaton.
What we do expect is a base level of competence when it comes to logic and continuity, and that base level is just not met in "Colombiana." Over and over and over again, this film proves itself to be maybe the most anachronistic movie in a decade. It's so anachronistic, it's positively anachrotastic. Here's just five examples I caught; I'm sure there are more. I'll be getting into a few plot specifics here, so there are some minor SPOILERS ahead.
1. Mini SD cards didn't exist in 1992.
According to an onscreen title card, "Colombiana" begins in "Colombia – 1992," where Zoe Saldana's character, Cataleya, is a Colombian schoolgirl whose parents do wetwork for a drug cartel. Some sort of deal with the parents' boss goes bad, and the cartel comes gunning for the family. Just before his death, Cataleya's father gives her a mini SD card full of incriminating information and instructions to deliver it to the US embassy if anything should happen to him. But SD cards, especially little itty bitty ones like the kind Cataleya's father gives her, didn't hit the market for another eight years.
The gaffe gets even worse when Cataleya arrives at the embassy and hands over the SD card to one of the US agents, who inserts it into an early-90s IBM PC complete with 5 1/2 inch floppy drive and monochromatic screen. Of course, it reads the SD card no problem. At least he doesn't stick it into a Zack Morris cell phone and then upload its contents to his Facebook page.
2. Neither did "Xena: Warrior Princess."
While fleeing to America, Cataleya passes the time by reading "Xena: Warrior Princess" comic books. When she arrives in Chicago, she tells her uncle that she'd always wanted to be like Xena when she grew up. But her parents' murders have made her rethink her longterm career goals: now assassin for hire seems more her speed. Her uncle's understandably alarmed by his adorable niece's bloodlust, but he should be at least a little curious who exactly this Xena lady she keeps talking about is, since Lucy Lawless and her television show (not to mention any spinoff comic books) didn't premiere until 1995. If little Cataleya really loves Xena, she also really loves her undiagnosed psychic abilities, which could also explain our #3 anachronism…
3. Parkour was apparently invented by an extremely coordinated Colombian child.
True, some early forms of this extreme sport existed decades ago. But parkour didn't really start kicking (and running and jumping and then rolling and running some more) until the late '90s, when French gymnast and martial artist David Belle and a few of his cohorts popularized it through a series of documentaries and feature films. Regardless, that doesn't seem to stop Cataleya — who's maybe 10 years old at the time, mind you — from going into a full-on parkour chase scene through a Colombian favela to escape her parents' killers. To top it off, all the dudes chasing her appear to know parkour too! We've already established that she's a psychic, but where'd they learn this stuff? Isn't it obvious? They're time travelling drug lords.
4. President Obama? Not the President when the movie takes place.
After Cataleya lands in America, the film jumps ahead fifteen years. Which, if my math is correct, dates the rest of the movie to the year 2007. Which, if my memory is correct, is at least a year before Barack Obama was elected President of the United States. Why, then, does the evil CIA Agent working with the Colombian cartel have Obama's official presidential portrait on his wall? Here I think we're looking at a situation involving time travelling, and also some kind of Super PAC.
5. Michael Vartan's iPhone is from the future.
True, the first iPhone was released by Apple in mid-2007 — but not the model Vartan's sporting in the film, which looks to me like a second generation iPhone 3G. Let's just be thankful he didn't start free running after Cataleya when she gets pissed at him for taking a picture of her with it.
Did you spot any other "Colombiana" anachronisms? Tell us about them in the comments below or on Facebook and Twitter.