"Jaws" by "Charles Schulz" blows our minds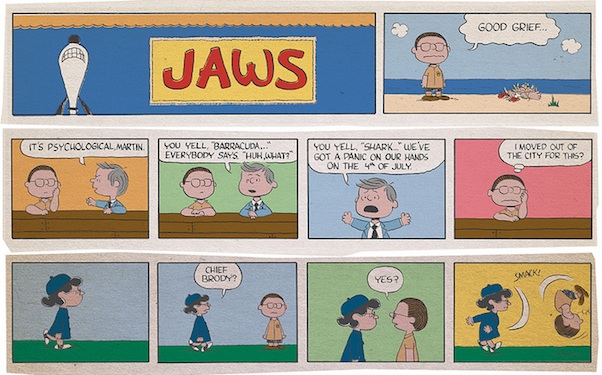 Posted by Matt Singer on
For better or worse, we live in a mashup culture. Take two disparate things, cram 'em together, make something new. Most are boring, some are interesting, a few are brilliant. Like the above and below, an great print from cartoonist Charles Forsman that ingeniously combines Steven Spielberg's "Jaws" and Charles Schulz's "Peanuts."
Forsman has ventured into similar territory before with an impressive "Raiders of the Lost Ark" print in the style of E.C. Segar's "Popeye." But his "Jaws"/"Peanuts" is even better because these two properties are so well-suited to one another. Charles Brown's mopey attitude hits just the right vibe for the town of Amity and their particularly toothy problem. Here is the full print.
So great. Now I want an animated version of Schulz's "Jaws!" At the end, Charlie Brown Brody is floating on the remains of the Orca breathing a heavy but relieved sigh as this music plays us into the closing credits. C'mon, Internet. Make it happen.
I would encourage you to go here and buy one of these fabulous prints, but they're already sold out. It's almost as painful as someone yanking a football out from under you as you try to kick a field goal, I know. But make sure you follow Forsman on Twitter so you know when he makes a second printing.
What other comic strip and movie mashups would you like to see? Tell us in the comments below or on Facebook and Twitter.
[H/T io9]