Chaos cinema reigns in modern action movies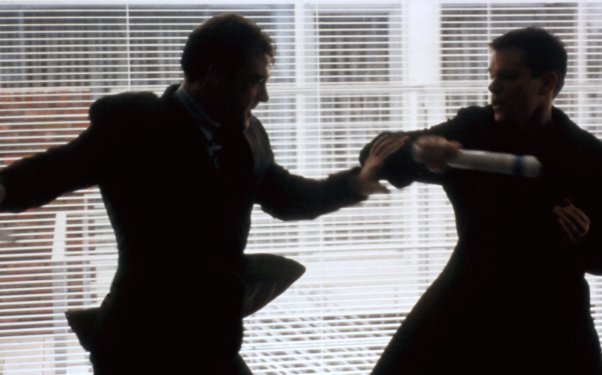 Posted by Matt Singer on
indieWIRE's Press Play blog has a must-watch 2-part video series this week entitled "Chaos Cinema: The Decline and Fall of Action Filmmaking" by Matthias Stork. In it, Stork uses extensive clips from movies past and present to argue that action films have fallen on hard times as a result of their trend toward what he calls "chaos cinema," a style recognizable for its hyperquick cutting and hypershaky camerawork. Here's Stork's video essay in full.
I was particularly struck by this segment of Stork's narration:
"Most chaos cinema is indeed lazy, inexact and largely devoid of beauty or judgment. It's an aesthetic configuration that refuses to engage viewers mentally and emotionally, instead aspiring to overwhelm, to overpower, to hypnotize viewers and plunge them into a passive state. The film does not seduce you into suspending disbelief. It bludgeons you until you give up."
In that one brief paragraph, Stork eloquently and succinctly describes all that is right and wrong with chaos cinema's worst practitioners, particularly Michael Bay, whose films appear throughout the two videos. Yes, there is a visceral component to Bay's work, like the undeniable and borderline beautiful feeling of flight and movement in the base jumping sequences from "Transformers: Dark of the Moon," but there's also a lot of spatial confusion as well. When you can only grasp the broad strokes of a scene's action, it's awfully difficult to get caught up in its drama or story. The juxtaposition of films like Bay's "Bad Boys 2" with the similarly themed and structured (but very differently shot) "Hard Boiled" by John Woo highlights just how much the latter film invests in its characters even as it thrills us with palpably exciting stunt sequences. Woo's work also showcases action choreography of a kind of intricacy that chaos cinema filmmakers don't seem interested in (or capable of) replicating.
My only gripe with Stork's piece is my feeling that he occasionally paints with too broad a brush. Chaos cinema is undeniably a major force in modern action filmmaking, and its impact has largely been a negative one. But that doesn't mean there aren't a few filmmakers who can use the style to their advantage. Stork acknowledges Kathryn Bigelow's "The Hurt Locker" as a positive example of chaos cinema, but there are lots of others and not all of them are war movies. For instance, Stork doesn't seem particularly enamored with the popular "Bourne" franchise and their "shakycam"-style fight scenes directed by Doug Liman and Paul Greengrass. And while I would agree that the fight scenes in "Bourne" are often frenetic to the point of incoherence, I'd argue that there are a few thematic underpinnings motivating that incoherence.
Jason Bourne's a character who's lost his identity to amnesia; he can't remember who he is or how he can do these incredible physical feats. He's acting on a level of pure instinct, a fact emphasized by Liman and Greengrass' faster-than-thought technique. From the viewer's perspective, it all looks like chaos. But that chaos also serves to show us just how superior Bourne is as a physical specimen to us. We normies can't even watch him fight, let alone fight like him.
That said, the "Bourne" franchise's popularity inspired a lot of crummy knockoffs. These movies copied "Bourne"'s form but none of that form's function. And that's where chaos cinema reigns, and reigns in a dark and sad way. To me chaos cinema is an idea that has its place. But that's where it has the most value: as an idea. When it's stripped of its intellectual underpinnings it just becomes a lot of pointless flash and sizzle.
Do you like chaos cinema? Tell us in the comments below or on Facebook and Twitter.