Fall Preview: Cameron Crowe talks "We Bought a Zoo," buying into Matt Damon and why animals make great characters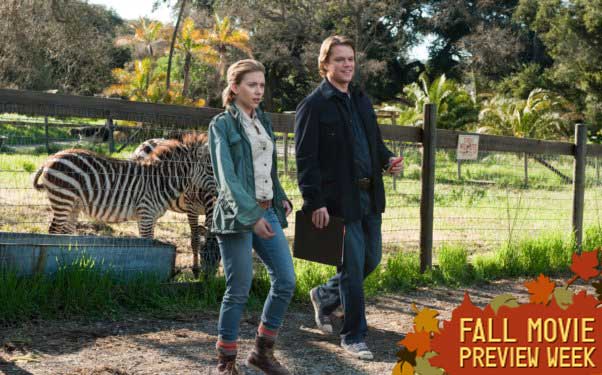 Posted by Matt Singer on
Cameron Crowe is an intimidating interview. After all, he's the guy who was such a brilliant journalist as a kid that he was a Rolling Stone contributor before the age of 20. In other words: it's never easy to speak to someone who's better at your job than you are. Plus, there's the whole part about him writing or directing some of my very favorite films, including "Say Anything…" "Almost Famous" and "Fast Times at Ridgemont High." For me and for most kids of my generation, these movies defined our teenage years. So, y'know, no pressure.
As soon I got on the phone with Crowe, though, I realized what made him such a great interviewer: the man is easy to talk to. He's funny and smart, and he's obviously excited about "We Bought a Zoo," his first fiction feature in six years. The film, based on a true story, stars Matt Damon as Benjamin Mee, a father who buys a zoo and struggles to simultaneously care for it and his ailing wife.
We'll have more on the film's soundtrack and Crowe's future projects soon, but as we wrap up our fall movie preview week here on IFC.com, let's check out his thoughts on why he was attracted to this unusual story, and why he knew Damon was the guy to play Mee.
What drew you to the material?
We were working for a few years on a couple different scripts that I was really in love with. We were working on the Marvin Gaye movie which is called "My Name is Marvin," but the time just wasn't right for that movie. I was sent this script, "We Bought a Zoo," by Aline Brosh McKenna and I read it and it really stayed with me. I read Benjamin Mee's book and I loved that too. It just was kind of hanging there saying, "I'm not leaving your mind. You are now feeling this more than ever." And it just felt like the time was right to do this. So I did a rewrite of the script, and really fell in love with the idea of directing it. I've always loved the movie "Local Hero" by Bill Forsyth and it reminded me of that. So I had to venture forward.
The title reminds me of the scene in "Jerry Maguire," where Jerry and Ray are talking, and Jerry's pouring his heart out and Ray just keeps asking him to take him to the zoo.
[laughs]
Are you a big zoo guy? Have you always wanted to set a movie in a zoo?
Totally subliminal! Maybe it's just from growing up in San Diego where the zoo is such a huge deal, but I was never a zoo fanatic. I was always going to record stores. Maybe it was just there, bubbling under the whole time.
It's really interesting to study up on animals and see that whole side of life. [The film's] mostly about the characters, though. The animals are characters too, but it's mostly the story of this family and how Ben — Matt Damon — throws himself Don Quixote-style into an impossible task and saves his family. I just loved the relationships between the characters and the idea of Matt playing a young father.
I went to meet him on the set of "True Grit." Actually, they never let me near the set of "True Grit." [laughs] Everybody in the hotel was like, "Coen Brothers movie? We can't say anything about that. There's no set. There's no movie." So I waited around the hotel and Matt came back from having filmed this big scene crossing the river. We sat and talked and I immediately knew we had to do this.
When you were rewriting the screenplay, were you writing it with Matt in mind?
I was halfway through the rewrite when I met Matt. The rest of the way, it was all Matt because I just envisioned him doing this stuff. He's a real family man, but he's a rocking guy too, so I liked the whole idea of how the music would work with him because he's a real music fan. What I thought Matt would do is bring a real reality to it. So often movies about families seem like the domain of people that — "That's somebody else's home, that's not mine. My childhood wasn't quite like that. That's a movie childhood, that's a movie family." But being an adult and raising children doesn't suddenly mean you can't do all the things you did when you were younger. In fact, you try and balance them. And Matt does that so well as a guy that I knew I could use all the music I wanted to use too.
Is a late December release date nerve-wracking at all? There's this expectation that anything released around that time of year is going to be a big awards movie.
I'm actually honored, because every time we show the movie I keep feeling like it's got that holiday spirit to it. It's a little bit like when Springsteen used to do those Christmas shows and he would tell those stories about growing up, and Clarence was Santa Claus and Roy Bittan would just be playing the piano. They had this kind of soulful, almost whimsical holiday feel. So I'm really happy it's going to be coming out around that time.
As far as the other pressures, there's so many movies; clearly we're David to everybody else's Goliath. We're there if you want to come see our movie, but there are many towering movies all around us. And I think that's good! I think that's a great place to be. Hopefully it's a movie that you can discover that won't feel like it was created for the market. It's not. It's a very personal movie for all of us.
"We Bought a Zoo" opens December 23 and is featured in our 2011 Fall Movie Preview Guide. Looking forward to it? Tell us in the comments below or on Facebook and Twitter.