Exclusive: Cameron Crowe clears up "Say Anything…" sequel rumors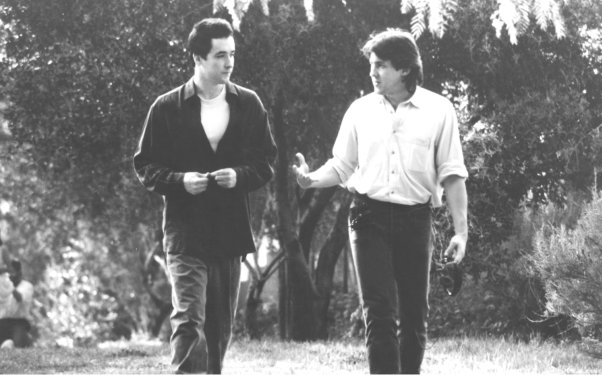 Posted by Matt Singer on
Cameron Crowe went to the Television Critics Association press tour last month to talk about his upcoming documentary "Pearl Jam Twenty." But one statement the director made about a twenty year old movie ended up garnering all the headlines.
Asked by a reporter whether he'd ever consider a sequel to 1989's teen rom-com classic "Say Anything…," Crowe replied that it was "the only thing" he'd ever written that he "would consider doing that with." And with that, the movie blogosphere was off and running, running articles like this and this and this.
"I was very surprised that got picked up and repeated so many times," Crowe told me last week during our conversation about his upcoming film "We Bought a Zoo." Eager to clear up comments he thought were blown out of proportion, Crowe said any sort of "Say Anything…" sequel is "definitely a pipe dream."
"it's a personal thing for me, that movie," Crowe explained. "It's probably my favorite thing I've ever done. And the last thing I would ever dream of doing is touching something that I feel so proud about in any way. I just love the characters and I was sort of musing out loud with this really cool person that had asked the question."
Crowe admitted he had talked to "Say Anything…" star John Cusack about a possible sequel, but just once, "a long time ago."
"I always loved the Truffaut / Antoine Doinel relationship," Crowe added. "And I said [to Cusack], 'We should have made more movies more often with that character or another character.' I so strongly relate to Cusack's persona and his acting. He really can say the words and make them sing. I wish I'd done more stuff with him. It's kind of odd that plans didn't align in that way."
But even if the possibility of a "Say Anything…" sequel is a lot less likely than those breathless headlines made it seem, that doesn't mean Crowe hasn't thought about it. Asked if he ever considered where kickboxing enthusiast Lloyd Dobler (Cusack) and beautiful valedictorian Diane Court (Ione Skye) would have ended up in life, Crowe confessed that he has. "I do from time to time, just talking with friends," Crowe said, before quickly adding, "but there's no script, nobody's out there trying to pitch a 'Say Anything…' sequel."
If it ever happens, Crowe thinks a "Say Anything…" sequel might look more like a spinoff. "I remember those characters and I keep thinking that there's more that I could write about some of them, and not just Lloyd." Crowe said. "If anything, it would be a side character or some story where there was some kind of linkage. I love Mike Cameron, I love the poor drunk that they drive home on the night of the grad party. As a writer, there's just more there that I always thought, 'Well someday.' Maybe it's just a short story. Maybe it's a miniature kind of thing that I write some day."
Whether some day comes or not, Crowe said he appreciates fans' enthusiasm about the possibility of more stories from the world of "Say Anything…" "I'm honored that people have a personal relationship with the movie," Crowe said. "I do too."
Would you want to see a "Say Anything…" sequel? Tell us in the comments below or on Facebook and Twitter, and be sure to look for more from our interview with Cameron Crowe later this week on IFC.com. "We Bought a Zoo" opens on December 23.