Kathryn Bigelow's Bin Laden film under fire from Congressman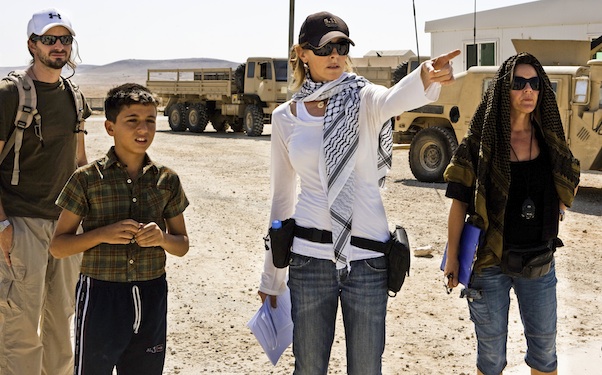 Posted by Matt Singer on
Academy Award winning "Hurt Locker" filmmakers Kathryn Bigelow and Mark Boal's movie on the Navy SEALs that hunted down and killed Osama Bin Laden won't hit theaters for over a year but it's already generating controversy in Washington D.C. New York State Congressman Peter King, chairman of the committee on homeland security, has requested an investigation into and debriefing from the CIA regarding the "ongoing leaks of classified information regarding sensitive military operations."
The brewing kerfuffle started with this Maureen Dowd column from last weekend's New York Times. The piece, entitled "The Downgrade Blues," profiled President Barack Obama's struggle to maintain his popularity in hard economic times. One way, according to her, was by providing "top-level access to the most classified mission in history" to BIgelow and Boal who "got welcomed to the upper echelons of the White House and the Pentagon and showed up recently — to the surprise of some military officers — at a C.I.A. ceremony celebrating the hero Seals."
"The White House is also counting on the Kathryn Bigelow and Mark Boal big-screen version of the killing of Bin Laden to counter Obama's growing reputation as ineffectual. The Sony film by the Oscar-winning pair who made 'The Hurt Locker' will no doubt reflect the president's cool, gutsy decision against shaky odds. Just as Obamaland was hoping, the movie is scheduled to open on Oct. 12, 2012 — perfectly timed to give a home-stretch boost to a campaign that has grown tougher."
Though King's open letter contains lots of salient questions he wants answers to ("Will a copy of this film be submitted to the military and CIA for pre-publication review, to determine if special operations tactics, techniques and procedures, or Agency intelligence sources and methods, would be revealed by its release?"), I suspect it's Dowd's last sentence that has King, a Republican, really worried. Campaigns and home-stretch boosts in an election year? Uh oh. (King is also "keeping his options open" about running for the Senate in New York in 2012.)
In response to King's accusations, Bigelow and Boal released their own statement, which goes to great lengths to paint their film as non-partisan:
"Our upcoming film project about the decade long pursuit of bin Laden has been in the works for many years and integrates the collective efforts of three administrations, including those of Presidents Clinton, Bush, and Obama, as well as the cooperative strategies and implementation by the Department of Defense and the Central Intelligence Agency. Indeed, the dangerous work of finding the world's most wanted man was carried out by individuals in the military and intelligence communities who put their lives at risk for the greater good without regard for political affiliation. This was an American triumph, both heroic and non-partisan, and there is no basis to suggest that our film will represent this enormous victory otherwise."
Obviously leaking classified info to these filmmakers would, if true, be a big no-no. And Boal probably shouldn't have been around for any special SEAL Team 6 ceremonies either. But I'm not convinced this is anything more than a political football. Anyone who's seen Bigelow's work knows she makes thrilling action movies, not propagandistic policy statements. "The Hurt Locker," while superb, was ridiculous. Now we're worried they're going to give away state secrets? Even if they did, I don't know that we'd believe them. Unless the President was planning on making a cameo in the film as himself, I don't share the outrage.
Do you think Rep. King has a point? Tell us in the comments below or on Facebook and Twitter.