"Better Than Something: Jay Reatard" may be the best rock doc since "Dig"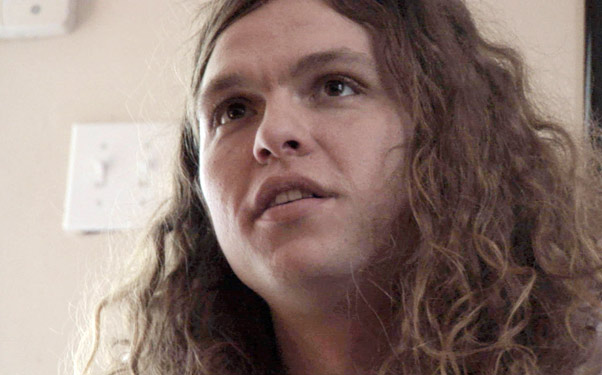 Posted by IFC on
Not long before Jay Reatard was found dead in 2010 at his Memphis home at the age of 29, filmmakers Ian Markiewicz and Alex Hammond spent time interviewing and shooting the punk-rock firebrand for a short promotional film. In spite of Reatard's combative public image — created by sensationalistic media coverage of his intense and confrontational live performances — Markiewicz and Hammond found him to be affable and contemplative, as he vividly recalled a short but eventful life distinguished by poverty, alienation, and an indomitable spirit to transcend his circumstances.
After Reatard's death, Markiewicz and Hammond turned to his friends and family for the rest of the story. The result is "Better Than Something: Jay Reatard," a sad, exhilarating, and ultimately inspiring documentary about a complicated young man whose life ended just as he appeared to be overcoming his demons. Combining interviews with astonishing performance footage dating back to Reatard's teen years, "Better Than Something" traces Reatard evolution from the aimless anger of adolescence to something resembling inner peace as he was approaching 30. It's a difficult journey — and Something doesn't sugar-coat how difficult Reatard himself could be — but an incredibly moving one. "Better Than Something" is the best rock documentary since "Dig."
"Better Than Something" is currently playing the festival circuit — including a screening Aug. 11 at the Don't Knock the Rock Film Festival, which marks the film's Los Angeles premiere — and is without distribution. IFC.com spoke with Markiewicz and Hammond about the film and how they got Reatard to open himself up.

IFC: You didn't know Jay Reatard before you began the film. How did you come to be involved with the project?
Ian Markiewicz: Jay was getting kind of pissed at the press. Any time anyone would do a story on him, it was just about how fucked up he was, and going down to Memphis and getting messed up with him. Jay had an idea: Let's do a film. He wanted to somehow clear the ear or tell his side or whatever it was. They looked at a few different filmmakers, but for whatever reason, when he met with us he said, "This is it."
Alex Hammond: One of the things he said during that interview was that he didn't want a fan to make the film. He wanted someone from the outside, to drop in and get an honest picture of his story. Two weeks later we were flying down to Memphis
IFC: One of the most disturbing sequences in the film occurs when you're driving around Memphis, and touring Jay's childhood home and haunts. At one house, he tells an anecdote about neighboring drug dealers busting in on crack addicts in the middle of raping a woman–which occurred on the other side of a shared wall in a duplex where teenaged Jay was staying with his mother and younger sister. Was it difficult to get him to be so open about his troubled background?
IM: The first day or two, we were just hanging out and shooting, and he was talking about being a touring musician and selling records and what the business was like from his perspective. So we didn't launch into the really heavy stuff right way. But Jay was definitely like, "I want to take you and show you stuff."
AH: We had no idea that was coming. That was incredibly shocking to us. We had no idea what we were getting into. He had such energy when we were there. We were rarely probing or asking questions. We'd bring up one question, and it would be Jay going on and on. He was so entertaining. He was a storyteller. He had a way of engaging you.

IFC: Your film started out as a short called "Waiting For Something." At what point did you realize that you had enough for a feature?
AH: At first they were like, "This is going to be like an EPK," but Jay didn't want a typical EPK. It started out as an eight to 10 minute piece, and then when we came back we said, "Holy shit, we don't have a 10-minute short, we have a film here."
IM: He kept bringing up this "warts and all" idea. He was like, "This has to be raw and rough." He kept saying things like that, and it turned out like that because he wanted to unload his whole story. He just really unleashed. That's the only word for it.
IFC: Obviously the nature of the project changed after Jay passed away. Did you begin seeking out his friends and family members immediately afterward?
AH: The moment we heard about his death, we weren't thinking about the film. Two months later, his friends were doing a big tribute show for him at South By Southwest.
IM: To be honest, I felt like, I don't know if I can handle looking at that stuff right now. It felt very dark at that point. And people were saying, you guys really have to be down here for this show. It kind of snuck up on us, like, "Okay, I guess we're doing this now." When we started doing it, you could just feel how palpable the emotion was coming off everybody. The wrong thing to do would be to wait a bunch of years, and then do something, when everybody's feelings weren't as strong. It seemed more in the spirit of what Jay did, being in the heat of the moment.
IFC: The sense you get at the end of the film is that Jay was in a good place in the months before his death, which makes his passing all the more sad. Was that your impression?
IM: He was stressing to us, I'm not a huge artist, I'm not making millions. But I'm doing what I like to do and doing well enough to live comfortably in Memphis, where I like to be. It felt to him that he had achieved some big goal. He knew that there was still work to be done — he wasn't complacent — but it seemed like he was in a good place at the time.
AM: When we were with him, he had just come off from a long tour. So he had this little window of I think two weeks, where he was back in Memphis. Then it was, I think, back down to South America. You look at the tour dates, it was nuts. He was excited about all that. It was definitely a positive energy coming from him.
IFC: What do you want people to take from "Better Than Something"? Why does Jay Reatard's music matter?
IM: His music is very pure. It's very much an expression of where he was at and what he was thinking. He was obsessed with finding new sounds and finding new music that expressed what he felt. If there was an audience, there was an audience. And if there was not, I don't know that Jay cared.
Leave your remembrances of Jay Reatard in the comments below or on Facebook or Twitter.