Our favorite movie glasses of all time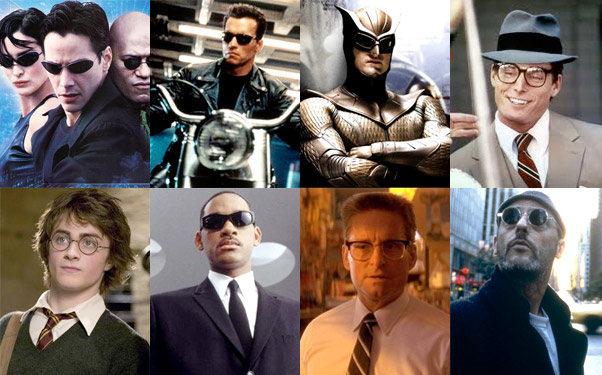 Posted by IFC on
We would argue that it's the spectacles and not the clothes that make the man or woman. Here are some of the best glasses in movies, from the ones sported so iconically by the Boy Who Lived in the "Harry Potter" movies to the alien-revealing shades in "They Live" to the damnable specs in "The Jerk."
---
The Matrix
Never mind that wearing sunglasses would seriously hinder your fighting skills, even in a virtual world — looking cool is top priority in the land of the Wachowskis. Neo, Trinity and Morpheus look great in their shaded specs as they leap, kick, punch, shoot guns and answer ringing telephones, but our favorite pair belongs to Agent Smith. The look of surprise/annoyance/slight concern on his face after Neo manages to break them in the original "Matrix" is classic: "I'm going to enjoy watching you die, Mr. Anderson." Smash an Agent's glasses and the fight gets personal.
---
"Harry Potter"
If Daniel Radcliffe wants a career post-"Harry Potter," all he has to do is make sure to never, ever wear glasses again. Really, Radcliffe could star in a gritty war drama or an action comedy about bumbling bank robbers — as far from Hogwarts as he could possibly get — but if he's wearing glasses, we'll immediately think "Harry Potter," and all is lost. To say that Harry's specs are "iconic" is the understatement of the century — they're as essential to his character as Indiana Jones' hat or the Cigarette Smoking Man's, uh, cigarette.
---
"Men in Black"
Again, wearing sunglasses would probably seriously hinder your investigative and/or fighting skills when you're a secret government agent protecting the Earth from the scum of the universe, but as Will Smith's Agent J says, "I make this look good." Tommy Lee Jones as Agent K doesn't look too shabby in them, either. Here's hoping that next summer's "Men in Black III" will be as cool as its two stars — and that Josh Brolin, as a young version of Agent K, can work the shades as well as his future self.
---
"They Live"
"Put on these glasses… or start eatin' that trashcan." Normal human beings would obey 'Rowdy' Roddy Piper without question, no matter how seemingly bizarre the order, but Keith David decides to pick a fight instead, just out of principle (or because director John Carpenter says so). One of the most epic two-man fight scenes ever put to film is over a pair of sunglasses that allow you to see the world as it really is — a consumerist dystopian wasteland run by ugly aliens. David eventually puts on the glasses, which means he'll never know how tasty that trashcan might've been.
---
"Dream a Little Dream 2"
You didn't think we'd forget the Coreys, did you? First of all, yes, there was a "Dream a Little Dream 2," and it's now available on Netflix Instant if you require proof. You don't necessarily need to actually watch it… actually, on second thought, yes, you do — you need to watch the madcap antics of Haim and Feldman as they stumble across magic sunglasses that allow you to control the mind of whoever's wearing a second pair. It's all very trippy and stupid, and Feldman indulges in another impromptu dance routine, this time in someone's kitchen. Whoa boy.
---