"Back to the Future" co-creator Bob Gale reveals how Marty became friends with Doc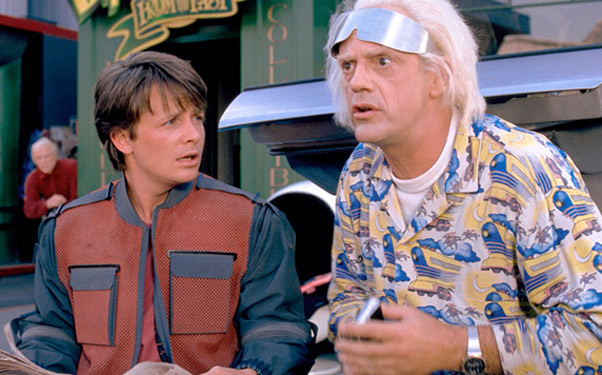 Posted by Aubrey Sitterson on
For over two decades, there's been one thing that "Back to the Future" fans have wracked their brains over time and time again. No, no, not "Why does Marty look nothing like his dad, but exactly like his son?" and not even "Is it weird that the scene with Marty and his mom is so hot?" What we've really been dying to know is why Marty hangs out with crazy old Doc Brown in the first place.
We mean, sure, if Marty knew that Doc could bend the very laws of space-time to his zany will, that's reason to put up with even the nuttiest of professors, but he couldn't have known that from jump street, could he? Fortunately, someone over at mental_floss was wondering the same thing, and even more fortunately, "Back to the Future's" co-creator and co-writer Bob Gale chimed in with this answer:
Okay, from the horse's mouth (yes, I'm the horse — er, co-writer, co-creator):
We never explained it in the movie. But the history of the characters that Bob Zemeckis and I created is this…

For years, Marty was told that Doc Brown was dangerous, a crackpot, a lunatic. So, being a red-blooded American teenage boy, age 13 or 14, he decided to find out just why this guy was so dangerous. Marty snuck into Doc's lab, and was fascinated by all the cool stuff that was there. When Doc found him there, he was delighted to find that Marty thought he was cool and accepted him for what he was. Both of them were the black sheep in their respective environments. Doc gave Marty a part-time job to help with experiments, tend to the lab, tend to the dog, etc.

And that's the origin of their relationship.
— Bob Gale
There you have it, folks. Marty snuck into Doc's lab as a curious young boy, only to strike up an unlikely friendship with a fellow eccentric. Kind of like "The Man Without a Face" but without all the disfigurement or possible molestation (we hope). So, back to wondering about what your feelings about Marty's mom says about you as a person and hilariously remarking, "Only four more years until hoverboards!"
What do you think about Gale's explanation? Give us your fan-fiction versions of Marty and Doc's first meeting in the comments below, or on Facebook and Twitter!