Ten Avengers who won't be getting their own Marvel movies any time soon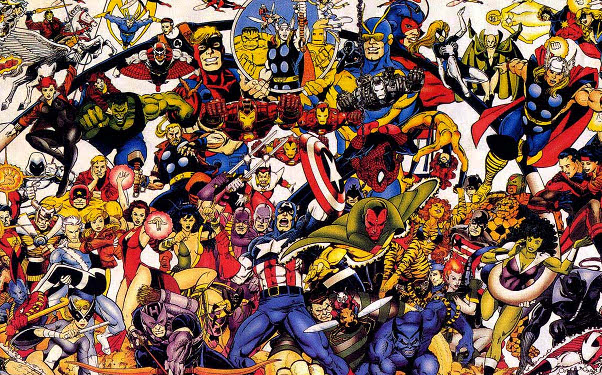 Posted by Rick Marshall on
"The Avengers" hits theaters next year, bringing some of Marvel Comics' most popular superheroes together on one screen. Not only will the film feature solo stars Iron Man, Thor, Captain America, and Hulk, but it will also include characters like Black Widow and Hawkeye whose presence in Marvel's cinematic universe have been relegated to cameos thus far.
However, those are far from the only members of the Avengers roster that Hollywood can chose from. As one of Marvel's oldest superhero teams, it's almost easier to name the Marvel Comics characters who haven't held an Avengers ID at one point or another.
And while some of the names on the Avengers roster could certainly factor into the upcoming film and future Marvel movies, there are quite a few characters who it's safe to assume will never make the leap to page to screen.
From a bikini-clad tigress to a time-traveling gunslinger, here are ten Avengers who probably won't appear in Marvel's live-action movies.
---
TIGRA
Introduced back in the early '70s, Tigra is the name used by superheroine Greer Grant Nelson, a scientist's assistant who was granted cat-like superhuman powers in a radical experiment. She was later magically transformed into a "Cat Person" with orange fur, tiger stripes, and a tail. While she's been given the chance to transform back into a human at points, she prefers to hang out in her feline form, usually wearing nothing but a tiny string bikini.
WHY NOT: While there's certainly room for another female superhero in "The Avengers," we can't really see Sam Jackson's Nick Fury taking this magical tiger lady very seriously.
---
STARFOX
A red-haired superhero evolved from an alien offshoot of humanity, Starfox is the Avengers codename for Eros, a character created in 1973 by Jim Starlin and Mike Friedrich. Along with possessing the ability to fly, superhuman strength and stamina, and a unique healing ability, Starfox's primary claim to fame is the ability to stimulate the pleasure centers of other creatures' brains. Over the years, he's used this ability to bed a long list of female superheroes, and eventually found himself on trial for sexual assault, charged with using his powers to seduce a married woman.
WHY NOT: When it comes to "The Avengers," one lothario (Tony Stark) is probably enough — especially if the alternative is an alien with a sketchy history of sexual offenses.
---
STINGRAY
Walter Newell is an oceanographer with a special suit that gives him superhuman strength and the ability to swim really, really fast (and glide through the air for short distances). He can also shoot electric blasts from his fingers.
WHY NOT: While the character has his fans, let's face it: unless there's a lot of underwater action in "The Avengers," we probably won't see Stingray.
---
DARKHAWK
After teenager Chris Powell found a weird amulet in an abandoned amusement park, he found that he was able to switch bodies with a powerful android and decided to fight crime as the superhero Darkhawk. The character was introduced in the early '90s and after spending a few years in his own series, he was demoted to occasional cameo status around the Marvel Comics universe — including a brief stint with the West Coast Avengers. His origin is a convoluted mess that's been rewritten several times over, and while he has a vocal fanbase, he's never managed to elevate his status beyond C-List hero.
WHY NOT: Even though I'm a fan of Darkhawk, I know it would take at least two hours just to make his backstory begin to make sense to mainstream movie audiences. Sorry, Darkhawk fans…
---
MACHINE MAN
Created by comics legend Jack Kirby for a comic based on "2001: A Space Odyssey," Machine Man is a humanoid android superhero who served on the West Coast Avengers for several years before having his membership revoked. The character received a complete revamp at the hands of writer Warren Ellis, and now exists as an obnoxious, beer-fueled employee of S.H.I.E.L.D. He frequently complains about the "fleshy ones" he's forced to work with, and likes to talk about his "sexy roboty parts."
WHY NOT: Yeah, there's probably no need to explain why Machine Man won't appear in "The Avengers." Let's be honest, though: we all secretly want to see him in that movie.