New "Avengers" set photos could be big spoilers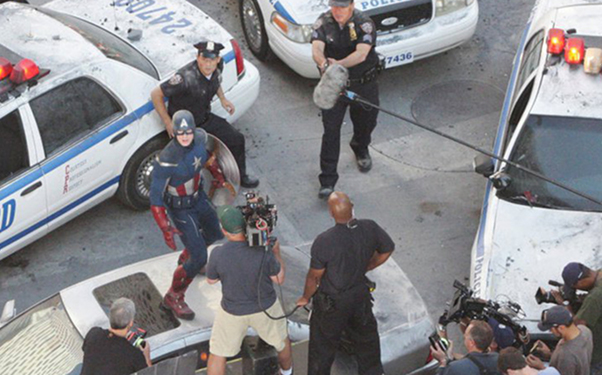 Posted by Rick Marshall on
Last week, we reported on a study that praised the benefits of spoiling the end of a movie and suggested that the more audiences know about a story going into it, the more enjoyment they'll get out of it. If that's really the case, than the latest batch of photos from the set of "The Avengers" should ensure that the film receives a standing ovation when it finally hits theaters.
Posted over at SuperHeroHype, the photos were shot around the Cleveland set, which is doubling for New York City in a key scene. While the main focus of the photos is actor Chris Evans in his Captain America uniform, there are a few other elements of the film that just might reveal (or confirm) a major plot point that's been the stuff of rumors for the last year or so.
Consider this your official SPOILER ALERT, folks. There are potentially beneficial, enjoyment-enhancing images ahead!
In the new photos, Evans is front and center as Captain America, but he's not the only character appearing in the shots. Not only are there a pair of actors clad head-to-toe in motion-capture suits, but they're also wielding some strange weapons that may or may not be alien in nature.
Thus far, the only villain that's been confirmed for the film is Loki, Tom Hiddleston's character from "Thor." However, the presence of several actors in full motion-capture suits would seem to indicate that the trickster god won't be the only person causing problems for Earth's Mightiest Heroes.
A while back, a rumor made the rounds that script for "The Avengers" leaned heavily on a storyline involving the Kree-Skrull war — an intergalactic battle two alien races that spilled over onto Earth and forced the Avengers to take action. Given the look of the weapons and presence of those motion-capture suits (which allow a computer to create a digital image based on an actor's movement), it certainly seems plausible that the photos show a brawl between Cap and invaders from outer space.
In fact, there's even a video of the scene that's found its way online:
Repeat after me: Spoilers are good for the soul… Spoilers are good for the soul… Spoilers are good for the soul…
What do you think is going on in the "Avengers" scene being filmed? Chime in below or on Facebook or Twitter.