Art show augments the future shock of "Deus Ex: Human Revolution"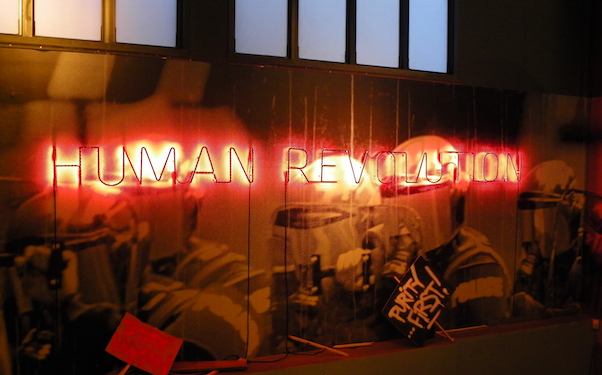 Posted by Evan Narcisse on
Last week, a window into the future opened up in downtown Manhattan's trendy SoHo district. Peering inside of the Wooster Street Social Club's storefront window, passers-by could see digital grafitti screens along with getting a look at the robot arm they'll be wearing in the future. Well, the future of "Deus Ex: Human Revolution," anyway.
The upcoming cyberpunk action RPG takes place in a future where cyborg augmentation is turning human bodies into much more than nature intended. Publisher Square Enix mounted an art show where artists illustrated pieces that spoke to the pro- and anti-augmentation sides of the debate. Giant pixellated blow-ups of lead character Adam Jensen stared out from the walls of the Social Club, providing a backdrop to painted and photographed work from artists like Estevan Oriol, Sam Flores, N8 Van Dyke and two-man collective 3rassiere.
Speculating that scientific meddling would find a home below the belt line, 3rassiere's Alexander Tarrant and Justin Metros relished the chance to deface a pro-augmentation advertisement. It was an ad they made, representing the next era of male enhancement. Tarrant says, "We got the smug boner smile from the guy in the picture that says, 'Yeah, I'm still railing my old lady.'" That poster then gets defaced with jokes that deride the older gentleman as something less than human. Using a two-stroke engine gag for an erectile dysfunction ad got giggles out of a few attendees.
On the other side of the debate, Van Dyke's piece portays Rodin's famous "The Thinker" sculpture in a drawing that gives the figure a bionic right arm. The artist offered that he drew from the idea of human augmentation ushering in a new renaissance, with a neo-Thinker who's pondering the future. Van Dyke spoke about his contribution, saying that the scribbles on the background were inspired by the design notes that DaVinci would write all over the sketches of his forward-looking innovations.
DaVinci, of course, worked during the Italian Renaissance and that time period actually figures prominently in the art direction of "Deus Ex: Human Revolution." The Eidos Montreal dev studio working on the game is seeding vaulting archways in the gameworld's architecture and scarves and frilly sleeves to be found on various characters. Despite the callbacks to the medieval past, the future of "DXHR" isn't all that far away, thanks to cutting-edge biomedical advances being made at an alarming rate. The Wooster Street art show brings the moral quandaries into the present in grand style and Square Enix's just announced fans can actually get prints of the commissioned works via an auction at the CharityBuzz website. If you're in New York City, the exhibition runs until Sunday, August 7th. "Deus Ex: Human Revolution" comes out on August 23rd.
Which piece of "DXHR"-inspired art would you want hanging on your wall? Let us know in the comments below or on Facebook or Twitter.